OK, as cool as this is from a purely 'geek' point of view, this news gave me a wtf?? moment…
A college class based entirely around Blizzard's real-time strategy game StarCraft has opened at UC Berkeley, according to a course listing found by StarCraft Wire.
The class will begin with a lecture on topics "from the viewpoint of pure theory to the more computational aspects of how exactly battles are conducted." Following the lecture, replays of students' battles will be "analyzed," and "homework" will be assigned. Required materials include a copy of StarCraft: Brood War and an "open mind."
Source: ShackNews.com
Ever wonder what Faith from Mirror's Edge dreams about? Tom Farrer, producer of Mirror's Edge, answered this question on the PlayStation.Blog: "She apparently dreams about enormous abstract sculptures floating above an endless sea!"
The upcoming time trial DLC pack for Mirror's Edge was originally scheduled for release tomorrow. However, Big Download reports that these additional races will come in February. The delay should give fans a bit more time to practice their skills — the DLC adds new Trophies that only the most hardcore players will be able to achieve. (At the time of writing, we haven't seen if the 360 version will get new Achievements as well.)
While the premium maps won't be available until next month, PS3 owners will still be able to download a system-exclusive map on the PlayStation Store tomorrow. "Synethesia" will be free to all owners of the PS3 version of Mirror's Edge.
Source: Joystiq
Last month, "Twilight" star Kristen Stewart made big news with the announcement that she'd soon be portraying another headstrong, no-nonsense tough girl with a disarming beauty and a wicked attitude: the one and only Joan Jett.
Recently we caught up with KStew at Sundance to get her thoughts on "New Moon" her upcoming film "Adventureland" and the biopic that will soon have her putting another dime in the jukebox, baby.
"I'm, like, vibrating," grinned Stewart when we asked about "The Runaways," a 1970's-era flick about the influential all-girl rock band fronted by Jett and Lita Ford. "I'm just so excited about that movie."
"I'm really, exceedingly, more excited than normal," she laughed.
Directed by Floria Sigismondi, the flick will tell the story of the teenage band who were brought together and thrown into leather and lace, performing such sneer-filled songs as "Cherry Bomb." Although they barely lasted four years and only put out a handful of albums, the band was able to overcome their sleazy "jailbait" gimmick to become an influential punk band that would eventually help birth such successors as The Breeders, L7 and The Donnas.
Joan Jett herself has signed on to be the film's executive producer, and Stewart revealed to us that not only is she currently hard at work picking up old guitar riffs, but she's also been spending quality time with the durable rock goddess herself.
"Yeah, I spent New Year's with her," Kristen said of her new buddy Joan Jett. "I spent, like hours, just talking to her."
"The Runaways" hopes to begin filming near the end of 2009, and will follow the all-girl band from their mid-70's formation to their late-70's collapse. After their music – typically songs about sex, booze and life on the streets – died down, Jett (born Joan Larkin) went on to become one of the most popular female rockers of the early Eighties. Backed by the Blackhearts, her attitude-filled hits "I Love Rock 'n' Roll," "Crimson and Clover" and "Do You Wanna Touch Me (Oh Yeah)" took her to the top of the charts and launched Jett on a successful career that still has her recording albums and touring extensively while she proudly maintains her punk attitude at age 48.
"It's been great," KStew said of her recent tutelage by Joan Jett.
Does Kristen Stewart have what it takes to play Joan Jett? What other "Twilight" stars would you like to see portraying famous musicians?
Source: MTVMovies
Variety is reporting that the Hong Kong-based Imagi Entertainment has received funding to resume work on its CGI Astro Boy feature, which was shut down briefly as the company searched for bridge financing until an expected infusion of funding from private equity companies arrives. The film, which is based on the classic manga by Osamu Tezuka and isslated to open in more than 3000 theaters in North America on October 23rd, features an all-star vocal cast that includes Kristen Bell, Nicholas Cage, Freddie Highmore, Bill Nighy, Eugene Levy, and Donald Sutherland.
The Astro Boy situation indicates that during the current "credit crunch" projects that would have received financing easily in the past can be put in jeopardy as studios scramble to arrange financing as previous sources of cash evaporate and hard-pressed investors have to pull out of projects. Although the strong box office numbers in Q4 2008 and so far in 2009 indicate that movies are countercyclical, like other industries, the studios, especially smaller companies and mid-majors, are struggling with financing, even it seems when things are supposedly all set. The new Variety report contradicts a previous Variety article from December 29th that indicated that, although Imagi did not have the financing for any of its next three announced projects, Gatchaman, Tusker, and Cat Tale, the money for Astro Boy was in place.
Source: icv2.com
In an article at The Los Angeles Times , the author writes that there's a possibility that Adam Sandler will appear in Sony's The Green Hornet opposite Seth Rogen: I also heard a random rumor about the 'Hornet' film: Two different people in the industry told me that Adam Sandler has a brief but key role in the movie as a certain surprise superhero…I heard which one, too, but I don't want to ruin it.
Sandler and Rogen have another project together as well. The studio has yet to announce a new director after Stephen Chow dropped out (he's still expected to play Kato), but it is still targeting a June 25, 2010 release.
Source: ComingSoon.net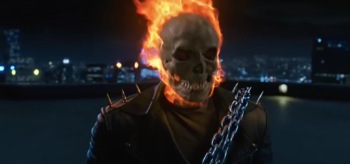 Bloody Disgusting has confirmed that Columbia Pictures is officially out to screenwriters for Ghost Rider 2, and star Nicolas Cage is already signed on to reprise the role as Johnny Blaze.
This is shocking because nobody I know enjoyed the 2007 film when it was released. In fact, the Internet Movie Database user rating is a 5.3 (which is somewhere between bad and very bad) and a 28% on the Rotten Tomatoes critics-rated Tomatometer. The film didn't even make big bucks at the box office. Made for $110 million, the film grossed $228 million worldwide (again, about half of which went to exhibitor costs) which means the film barely made a theatrical profit. But for a superhero movie like Ghost Rider, the real money is made in merchandising and DVD sales, which explains the interest in a sequel.
I use to read Ghost Rider comic books when I was younger, and I really believe that the comic property could be turned into a pretty cool movie. Lets just hope that Mark Steven Johnson isn't sitting in the director's chair this time around. Sony needs to learn from Marvel's recent wins and hire a director who is a few levels higher than the material.
Source: /film

Just a quick reminder that the Dawn of War II beta is now available to all people for the low, low price of nothing. With just a click, a little free time and 5.5 gigglebytes of hard drive space you could be well on your way to pitting orcs against space marines in the most stunning visual metaphor for the state of the video game industry ever.
Source: Joystiq.com
The remains of Gene Roddenberry and his wife Majel Barrett-Roddenberry will be sent together into space next year.
As reported by Yahoo! News, the creator of Star Trek and his wife will be sent into space next year courtesy of Celestic Inc., a company that specializes in "memorial spaceflights."
The remains will be sealed into specially made capsules designed to withstand the rigors of space travel. These capsules will be sent along with digitized tributes from Star Trek fans. The spacecraft and remains will travel into space and are not expected to return to earth, according to a company spokesperson.
Barrett-Roddenberry commissioned Celestic to launch part of her husband's remains into space in 1997. Gene Roddenberry passed away in 1991 and his wife followed last December.
To read more, head to the article located here.
Source: TrekToday.com
Another zombie film has some concept art to check out. Meredith Woerner over at i09.com has posted the piece:
Artist Daniel LuVisi posted tryout concept art for the movie adaptation of the zombie saga World War Z. It's a veritable Where's Waldo of splattered zombie carnage, mutilated New Yorkers, and other hidden gems.
This gorgeously gory work created by the incredibly gifted concept artist and production designer LuVisi, was put together as a try-out to secure his role in Marc Forester's World War Z. Titled "The Battle Of Yonkers," the piece showcases how seriously LuVisi is taking his work. There are millions of details, from the camera crew to the red tape wrapped around one soldier's piece (click to enlarge in the gallery).
According to the artist:
This is the image I did, to get on the film World War Z with Marc Forster, director of Quantum of Solace. Can't say whats going on or what the outcome is right now, but it's not in the negative zone

This was one of the most difficult images I've ever done. Incredibly challenging to the point where I wanted to quit. But through thick and thin I forced myself to complete it.
Source: io9.com
BATMAN #685
CAPTAIN AMERICA #46
CONAN THE CIMMERIAN #7
DARK TOWER TREACHERY #5 (OF 6)
MARVEL MINIMATES SECRET INVASION BOX SET
STAND CAPTAIN TRIPS #5 (OF 5)
WATCHMEN MOVIE ASST #1 BALANCED CASE ASST