Quote:
---
SEATTLE, Dec 14, 2009 (BUSINESS WIRE) — Amazon.com, Inc. (NASDAQ: AMZN) today announced that Kindle for iPhone App for iPhone and iPod touch is now available from the Apple App Store in more than 60 additional countries. The Kindle for iPhone App features Amazon's Whispersync technology that saves and synchronizes a customer's bookmarks across their Kindle devices and Kindle cross-platform applications, which include Kindle for iPhone and iPod touch, Kindle for PC, and in the coming months, Kindle for Mac and Kindle for Blackberry. Kindle customers can read a few pages on their Kindle, a few more pages on their Kindle-compatible device such as an iPhone and never lose their place.
---
You're probably wondering what took Amazon so long. After all, the Kindle PC Reader and the international Kindle both came out in October. But it's not Amazon's fault. The problem is with Apple, and how Apple allows apps to be made and distributed for the iPhone. With most any other OS (Windows, Linux, Maemo, Symbian, Android, Windows Mobile, DOS*), the reader software would be available everywhere you could download the day it's released. Not so with Apple.
The funny part about this announcement is that the app has been accessible since forever. All you needed to do to get it was set up an App Store account with a US address.
OPPO is known as a portable media player manufacturer in its early years in China. The company will launch their first Android-powered smartphone in the first quarter of 2010. The phone will comes with a 3.5-inch WVGA capacitive touchscreen, a side slide QWERTY keyboard and a Wi-Fi connectivity. The name of the model is still unavailable at this time. Stay tuned for more updates.
Joseph Shoer is a Ph.D. candidate in aerospace engineering, studying how modular spacecraft could be assembled, and hoping that they will be the telescopes and human exploration vehicles of the future, and not for crushing the dreams of Martian colonists.
I had a discussion recently with friends about the various depictions of space combat in science fiction movies, TV shows, and books. We have the fighter-plane engagements of Star Wars, the subdued, two-dimensional naval combat in Star Trek, the Newtonian planes of Battlestar Galactica, the staggeringly furious energy exchanges of the combat wasps in Peter Hamilton's books, and the use of antimatter rocket engines themselves as weapons in other sci-fi. But suppose we get out there, go terraform Mars, and the Martian colonists actually revolt. Or suppose we encounter hostile aliens. How would space combat actually go?
First, let me point out something that Ender's Game got right and something it got wrong. What it got right is the essentially three-dimensional nature of space combat, and how that would be fundamentally different from land, sea, and air combat. In principle, yes, your enemy could come at you from any direction at all. In practice, though, the Buggers are going to do no such thing. At least, not until someone invents an FTL drive, and we can actually pop our battle fleets into existence anywhere near our enemies. The marauding space fleets are going to be governed by orbit dynamics – not just of their own ships in orbit around planets and suns, but those planets' orbits. For the same reason that we have Space Shuttle launch delays, we'll be able to tell exactly what trajectories our enemies could take between planets: the launch window. At any given point in time, there are only so many routes from here to Mars that will leave our imperialist forces enough fuel and energy to put down the colonists' revolt. So, it would actually make sense to build space defense platforms in certain orbits, to point high-power radar-reflection surveillance satellites at certain empty reaches of space, or even to mine parts of the void. It also means that strategy is not as hopeless when we finally get to the Bugger homeworld: the enemy ships will be concentrated into certain orbits, leaving some avenues of attack guarded and some open. (Of course, once our ships maneuver towards those unguarded orbits, they will be easily observed – and potentially countered.)
Now, Let's Talk Technology
No matter how often you play it, you won't be able to understand the Metal Gear Solid: Peace Walker TGS demo unless you know Japanese. Thankfully, all that changes today with a brand new English language demo for your PSP. Based on our calculations, the English translation makes it about 15% more comprehensible than before. Excellent!
The demo will be available on the PlayStation Store and here on Joystiq (via BigDownload) later today. To ensure a problem-free experience, make sure you have the latest firmware update and have at least 103MB of free space on your PSP.
Gallery: Metal Gear Solid: Peace Walker
Paramount has released the newest trailer for Jon Favreau's upcoming Iron Man 2, and you can view it at Apple.com. Needless to say, it's awesome.
We get lots of Robert Downey Jr.'s trademark humor (they should call him Tony Snark), Gwyneth Paltrow's Pepper Potts, a new look at War Machine, a lot of Mickey Rourke's cool new villain Whiplash and a bit of Scarlett Johansson's Black Widow bringing the smackdown.
The sequel features the continuing adventures of billionaire industrialist Tony Stark and his alter ego, Iron Man. It opens May 7, 2010.
Here is the YouTube version below… Read more
Disney is rolling out a digital comics application for Apple's iPhone and iPod touch and Sony's PlayStation Portable globally beginning in Italy and soon to include the U.S. and UK, with rollouts in key markets throughout the world in 2010.
Disney DigiComics will begin by offering a relatively modest fifty downloadable comics featuring Mickey Mouse, Donald Duck, and other familiar Disney characters via in-app purchases, according to the Disney Comics Worldwide blog. The company will then begin adding five to ten new comics weekly, continuing storylines.
The comics were originally created for newspapers and magazines in Disney-crazy Italy, though in the future new content may be created just for the application. Series available first, according to the report, are X-Mickey, Wizards of Mickey, The Canterville Ghost, and Phantom of the Opera. Wizards of Mickey is published in the States by Boom! Studios (see "Boom's Disney Standards").
Up to 50,000 stories from the Disney archives are eventually planned for release through the app, according to Italy.
The new application represents a divergence from Disney's digital strategy for desktop, where it's pursuing a subscription model. Disney Books is now offering over 500 titles online by subscription for an annual fee of $79.95 (see "Disney Makes Children's Books Available Online").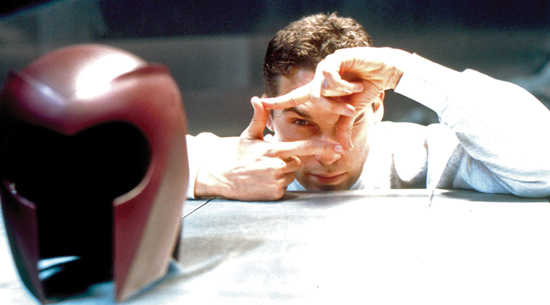 No need to beat around the bush with this one: on the blue carpet for Avatar's LA premiere earlier this evening, Bryan Singer offered up a tiny little detail about his follow-up to Jack the Giant Killer. He says he's signed to return to the X-Men franchise, for the film that will now presumably be called X-Men Origins: First Class.
Flickchart mentioned Singer's statement on Twitter, and it only took a few moments of combing through Ustream's archive of the live blue carpet video feed to find the brief interview with Singer. What he says, exactly, when asked about his next project is:
I'm prepping up to do a movie called Jack the Giant Killer [at] Warner Brothers, and I just yesterday signed a deal to do an X-Men First Class Origins picture, which is kind of cool.
Here's the video:
This isn't entirely a surprise, as Singer has talked about returning to the X-Men franchise as recently as this past October "I'm still looking to possibly returning to the 'X-Men' franchise. I've been talking to Fox about it. I love Hugh Jackman. I love the cast," he said then. He's also said he was considering directing First Class. Seems unlikely that he'll get to work with Jackman much in this one, however, as the film is meant to cover the team of X-Men prior to Wolverine's arrival in the first film.
Lauren Shuler Donner has said "the movie focuses on the first class at Xavier's school of the gifted, so only those mutants will be featured in the first movie," by which she evidently means that we'll see the early days of the original X-Men team. In April of this year, she described it like so:
So it's young Scott, young Jean, young Beast and that'll be really fun. I think (the plan) is to follow some of the characters into their own stories, and weave them back into the X-Men world. And hopefully First Class will become its own franchise and we can follow them as they grow up.
How often have you wanted your fast-paced online shooters to include some aspect from MMOs, such as epic mounts, complicated hotbars for all your skills, or monthly subscription fees? Well, none of those things are coming to Team Fortress 2…yet. Instead, it seems like Valve is testing the waters by adding crafting to the game. Yes, crafting.
In case you think I'm making this up, let me assure you I'm not that imaginative. Here, I'll let Valve explain it.
Introducing Team Fortress 2′s new Crafting system. Say goodbye to those enjoyable evenings spent complaining on the forums about which item in your inventory was the most useless, spraying anti-Australian racist hate speech all over Robin Walker, his lovely wife, and his beautiful children. EVERYTHING in your inventory now contributes towards something you actually WANT, and can build YOURSELF! If you're super clever, you'll even be able to craft new items before others can earn them the old fashioned way.
Bear hide gathering, forlorn LFG's in the chat text, and gold farming can't be far behind.
Here is an epsiode of Bing Crosby's radio program. This broadcast is from December 21st, 1944, and is his annual Christmas Program. Enjoy!
Audio clip: Adobe Flash Player (version 9 or above) is required to play this audio clip. Download the latest version here. You also need to have JavaScript enabled in your browser.
Heads up, Twi-hards — we might have a werewolf superhero on our hands!
Okay, maybe not a superhero who IS a werewolf — but Taylor Lautner, who plays the werewolf/giant ab muscle Jacob in New Moon, is apparently in talks to play Max Steele.
Who's that? According to the LA Times, Steele is "a 19-year-old extreme-sports athlete who is accidentally exposed to the unleashed power of nanotechological machines, which become part of him and (in the old show, at least) give him increased strength, near-invulnerability and the ability to change his appearance."
Additionally, the LA Times reports that Paramount has J.P. Lavin and Chad Damiani — who are also slated to work on Rob Liefeld properties Capeshooters and Youngblood — on board to write the Max Steele script.