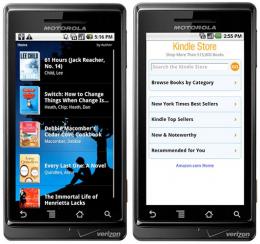 Amazon has just released the
Kindle for Android (link)
app.
Apparently the app will come pre loaded on the Samsung Galaxy Android phone in addition to the Dell Streak.
For those with Android devices you can download it from the Android market.
Note:  The app is free and I downloaded it for my HTC Incredible with no problems.  Getting a book from the store also went very well and the book was waiting for me by the time I got back to the Kindle app's home screen.  -JR
You must have loved the trailer for that Nazi UFO movie we showed you last week, because thanks to fan donations, the project has already pulled in 90 percent of the feature-length project's $8.5 million budget.
Iron Sky's premise is that Nazis in flying saucers escaped to the moon during the closing days of World War II, and in 2018 they return to conquer the Earth. Casting for the film is almost done, and filming will begin in Australia and Germany later this year.
Though Iron Sky's success in pulling in fan funding might encourage others to create films in which the audience and investor are the same, special-effects guru Samuli Torssonen warns that theirs is a special case.
"We didn't come out of nowhere," he said. "We've been building our Internet community and visibility since 1999, with Star Wreck. You have to invest a lot of time and energy to win the trust of the Internet audience."
Teaser Footage Below: Read more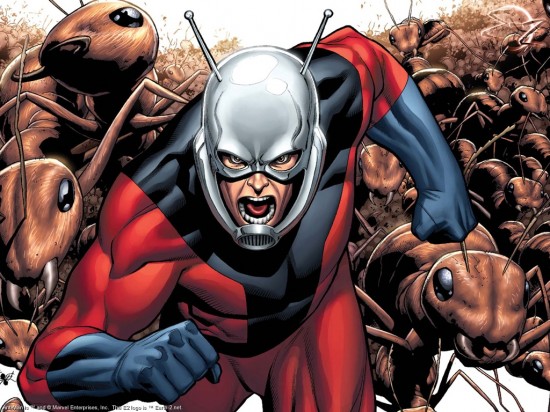 Writer/director Edgar Wright (Shaun of the Dead, Scott Pilgrim, Hot Fuzz) talked briefly with Box Office Magazine about his big screen adaptation of Marvel's Ant-Man which has been long in development. Wright says he hasn't yet started writing a second draft of the script, and won't be able to until September. He also talks about his vision for the film. Read his comments after the jump.
I haven't actually started the second draft yet–I'm not going to be able to until this film [Scott Pilgrim] is out–but what we wrote for the first draft, and what Marvel really liked, is that it's funny, but it's a genre film. It's about the level of comedy that Iron Man has. The idea is to make a high-concept genre film where it's within another genre. His suit and its power is the big gadget and it takes place in the real world. I just wanted to do something that was slightly different than the superhero origin film. I felt that between that and the various mad scientist, crazy doctor films that we've all seen, this would be a way into an origin that was slightly different. I'm not really a multi-tasker–I haven't done anything since Marvel liked our first draft.
I've heard nothing but amazing things about Wright's first draft. I've even heard that Marvel wants to push the project into production as soon as Wright becomes available. Read more from Wright, including why Nick Frost and Simon Pegg weren't given roles in Scott Pilgrim, in Box Office Magazine.
Everything eventually loses steam, and I can't help but wonder when Marvel will start to see greatly diminishing returns. There have been nearly a dozen feature films in the past ten years, Disney invested $4 billion to ensure we'd get more, and now comes news that the comic book titan will invade your TV.
The Hollywood Reporter says Marvel Television is the company's latest venture, one no doubt sparked by the recent Disney agreement, so in tune with vertically integrating everything is the House of Mouse. In fact, a few weeks ago, it was announced that Marvel characters would have a permanent home in the Disney theme parks, which shouldn't come as any great shock.
My initial thought was all the old Marvel cartoons and even the made-for-DVD animation we've seen recently, but apparently, live-action series are being discussed. And here's where Marvel might find it has too much of a good thing.
Jeph Loeb, who used to executive produce Heroes, is running Marvel Television, and that kind of makes sense. He know TV, and even though he's never written for Marvel and the company likes to elevate writers it's familiar with, Heroes certainly paid an homage to superheroes, particularly X-Men. However, some early fans of Heroes don't have many kind words to say about Loeb, so this announcement may not please them very much.
The interesting decision Disney has to make here is what characters go where. Obviously, Fox, Sony, and Paramount are bleeding dry the Spider-Man, X-Men, and Avengers universes. Do we develop shows based on characters that are really under the radar or does Disney kind of pull back on Marvel's full-scale theatrical assault and save some of the good characters for the small screen?
Oh, you've made your own assault rifle from Halo? That's cute. Wait, you've made your own Spartan suit? Meh, it's okay, we guess. See, the dudes at Peter Mander FX have ruined us forever, because they've produced about the best homage to Halo one could ever hope for: the ultra-realistic Elite suit you see above.
Largely comprised of plastic, TLC and dark magicks, the suit not only looks impressive, but it's animatronic. We can't imagine the blood, sweat and/or tears it took to produce such a lifelike recreation of this Covenant class, but we can get some idea from the video documenting the creation of this behemoth, which you can find past the break. Read more
Here's the good news—we just saw the new trailer for Space Battleship Yamato, and it looks like director Takashi Yamazaki's 2.2-billion-yen budget was well spent. Space Battleship Yamato could surprise us all by being one of the best sci-fi movies of the year.
But here's the bad news—the film, a live-action adaptation of the original anime TV series, doesn't have a U.S. release date, so for now the only way to see it when it opens Dec. 1 is for those of us who don't already live there to head to Japan. Read more
Welcome to FREE Mondays! Each week we focus on all of the newly digitized books you can read for FREE inside the greatest collection of Marvel comics available online: Marvel Digital Comics Unlimited! Plus, we'll let you know what's coming up next week for FREE, too! With each book, not only are you getting a free peek inside Marvel Digital Comics Unlimited, but each free Digital Comic either gives you a look at a book featured in a recent collection or a comic that's in stores now.
How would you like to have five free digital comics to help get you through the school and work week? Here ya go!
MARVEL MANGAVERSE #1
MARVEL MANGAVERSE #2
MARVEL MANGAVERSE #3
MARVEL MANGAVERSE #4
MARVEL MANGAVERSE #5
Find our what next week's five free digital comics will be below!*
DEADPOOL: MERC WITH A MOUTH #1
DOOMWAR #1
ULTIMATE COMICS ARMOR WARS #1
ULTIMATE COMICS SPIDER-MAN #1
UNCANNY X-MEN: FIRST CLASS #1
Verizon Wireless unveiled the much-anticipated Motorola Droid X on Wednesday. The device, which Motorola variously describes as a touch tablet and a pocket-sized home theater, runs Android version 2.1. It will be updated over the air to run on Android 2.2 later in the year. When that happens, the Droid X will double as a business user's device. The Droid X will be available at Verizon Wireless stores and on the carrier's website from July 15 for $199.99 after a $100 mail-in rebate.
The Droid X's Tech Specs
The Droid X is a CDMA device with an 8 MP (megapixel) camera offering a shutter speed of 1/1,000 seconds, autofocus, digital zoom, dual LED flash and cropping, rotating and geotagging tools.
It captures high-defintion video at 720p resolution at 30 fps (frames per second). The Droid X also runs streaming audio and video. Media formats supported include AAC, H.263, H.264, MP3, MPEG-4, .WAV and MIDI.
Motorola's new smartphone supports Bluetooth 2.1+EDR, the Android and Webkit browsers, and 802.11n WiFi. It can serve as a 3G mobile WiFi hotspot for up to five other devices and enables data access.
Owners can share videos by linking the device using an optional HDMI cable or Digital Living Network Alliance-certified technology to multiple DLNA devices such as a HDTV set, game console or PC.
The Droid X comes pre-loaded with games and apps such as "Need for Speed Shift," "NFL Mobile," Skype Mobile, and a full suite of Google (Nasdaq: GOOG) Mobile Services, including Android Market, Google Maps with Street View, Google Latitude and Gmail and Google Search.
Users can download Blockbuster (NYSE: BBI) on Demand using Verizon Wireless' VCast video feature. Read more
Golf carts are fun, but they just look so puny.  Instead of riding around in some incredibly slow and fragile looking golf cart, you need this Batman inspired golf cart.  Sure, it's not going to be able to do nearly as many tricks as the tumbler in the Batman movies, but at least you'll get to look cool while cruising around at the high speed of 15 miles an hour.
This just happens to have been created by a Warner Bros. employee who works in LA.  Hopefully his creation will soon be a part of the tour of the studio, at least it should be added.  There is no current tutorial or any hint on how this was made.  This is just a picture that someone captured while on the studio grounds, so there really isn't much information at all to go with it.
Source: OhGizmo
Once again, Hulu is drawing some attention from a possible partnership with a video game console. According to a report by Bloomberg, Sony may be close to securing a deal to bring a Hulu subscription to the PlayStation Network. In fact, "the partnership could be announced as soon as next week."
Weeks ago, Reuters ran a similar report, claiming Xbox 360 and iPad would also offer a premium Hulu service. However, these claims have not yet been fruitful. Considering the clamor for Hulu on multiple devices, these reports can be the result of wishful thinking — or Hulu is planning an aggressive multi-platform approach, not unlike Netflix.