I see this question asked on iPad and iOS forums often lately: how do I cancel an iPad subscription to XYZ magazine (or newspaper)?
Happily, it's very easy to cancel the subscription for an iPad edition of any newspaper or magazine you've signed up for – and you can do it right on the iPad itself. Here's how:
– Open the Settings app on the iPad
– Scroll down in the left sidebar and tap on the Store icon
– Scroll to the bottom of the main right-hand window and tap on the Apple ID bar. You'll get a popover titled Apple ID – tap on the first button on it, the one that says 'View Apple ID'
(…)
Read the rest of How to Cancel an iPad Newspaper or Magazine Subscription (151 words)
Spike iPhone case (Photo credit: Raymond Wong/DVICE)
We all know touchscreens are cool, but when it comes to typing long messages, they still leave something to be desired. To remedy this problem a new iPhone case offers what may be the Holy Grail of iPhone keyboards.
The Spike iPhone case functions as a simple case when you need your touchscreen, and when you need to type out messages a real keyboard swings out from the case's back. Essentially, the device gives BlackBerry lovers all the convenience of the tactile keyboard they love, with the apps and smartphone power of the popular iPhone. The project, launched by a veteran keyboard designer and his son, got its start on Kickstarter and quickly received more funding than required.
Going on sale in September, the base model will cost $35, and the premium version will cost $60. You can see the Spike case in action in the video below.
Apple ahead of the markets close just announced results for the calendar 2012 second quarter, the company's fiscal 2012 third quarter. As Apple is now an iPhone company, let's just get down to business. Apple shipped 26 million iPhones in the quarter, representing a 28% growth over the year-ago quarter.
The number is down substantially though, from the previous quarter, in which it sold 35.1 million handsets. Apple refreshes the iPhone annually and typically sees two gangbuster quarters after a new model is out, followed by two quarters when growth pauses as buyers await the new model.
iPad and Mac sales, and other performance metrics after the break…(…)
Read the rest of Apple reports 26 million iPhones sold, 17 million iPads in Q3 earnings
The New York Times is now offering 'the full paper' in the Flipboard app, to its subscribers. Previously only a portion of NYT articles were shown in Flipboard and to read the full article readers needed to tap to go out to The New York Times site – now NYT subscribers will see complete articles within the app.
Flipboard was updated today, to Version 1.9.4, with the NYT content news as the only change list item:
★ Enjoy world-renowned journalism from The New York Times. Paid subscribers can now access the full paper on Flipboard.
★ The New York Times' Top News section is free to all readers.
This should be great news for NYT subscribers who own iPads. Flipboard is a flagship iPad app, easily the best news magazine style app that lets you create your own magazine with all your favorite sources and sections.
It's also just an interesting move in general – as print publishers continue to tweak their approach to how their content is published on the iPad and this change may lead to fewer visits to The New York Times' own web site from iPad users. I've seen recent reports on some other big-name publishers who are not so keen on this approach. It will be fascinating to see how this plays out for The New York Times.
Here's an App Store link for Flipboard; it's a free app and a universal app designed for both iPad and iPhone.
Battle of the Bulge: the Simulation Game for the iPad is, easily, my favorite Kickstarter project ever. I'm a huge fan of Kickstarter and I've been heavily impressed with a number of the iPad related projects on it – but this is a no contest type situation.
One of my favorite things growing up was playing strategic war games – board games like Blitzkrieg, Gettysburg, Afrika Korps and many many others by companies like Avalon Hill and SPI. Some of my fondest memories are of playing these games against my brother – who was younger than me and far, far better than me at all of these strategy games.
This Battle of the Bulge iPad game will bring that great tradition of strategic war games to the iPad, and I honestly can't wait to see it – and play it!
(…)
Read the rest of My Favorite Kickstarter Project Ever – Battle of the Bulge Strategy Game for iPad (731 words)
If there's one thing that the iPad accessory space isn't short on, it's keyboard cases. There are a number of them available from several top-notch manufacturers including Zagg, Logitech, and Kensington. But that doesn't mean there isn't room for one more.
Meet the Brydge, an aluminum bluetooth keyboard case for your second generation or third generation iPad. Made from the "highest quality materials," the accessory makes your tablet look (and function) an awful lot like a MacBook Air…(…)
Read the rest of Turn your iPad into a MacBook Air with this keyboard case
---
"Turn your iPad into a MacBook Air with this keyboard case" is an article by iDownloadBlog.com.
Make sure to follow us on Twitter, Facebook, and Google+.
With a small army of Android phones headed to the market from Motorola, LG Electronics, and Sony, the stage is set for a major showdown between the two fastest-growing smartphone platforms as Apple brings the iPhone 4 to market. But the challenges seen by AT&T, Apple's exclusive U.S. carrier, and Apple in taking advance orders for the iPhone 4 could give the competition a boost.
Those rivals include Motorola's Droid X — launching one day before the iPhone 4 — with its 4.4-inch screen and the Droid Shadow with a 4.3-inch screen. Like Sprint's HTC EVO, these upstarts are showing defiant bulk as the iPhone gets slimmer. The Droids are packed with goodies like slide-out keyboards — still absent from the iPhone — fast processors and sharp cameras, and, perhaps, Android's latest multitasking operating system, version 2.2.
iPhone 4 Mania
According to several reports, LG will release up to 20 new Android devices, while Sony Ericsson is readying the Xperia 8 for battle.
But the iPhone 4 is no slouch either, with its 960-by-640-pixel screen with Retina display, a gyroscope, and dual cameras for video conferencing. A leak of the prototype in April and AT&T's decision to allow early upgrades to iPhone 3GS customers have fueled a landslide of pre-orders.
The carrier said there were 13 million upgrade inquiries on its web site and it had to suspend pre-orders on Wednesday, when a new system designed for fraud protection reportedly went haywire amid the chaos.
Apple, too, said it was overwhelmed, announcing on its site that the computer giant and its partners had taken 600,000 pre-orders, the largest ever in a single day. That forced Apple to push back the order-fulfillment target date from July 2 to July 14.
"Many customers were turned away or abandoned the process in frustration, " Apple said. "We apologize…
While the apps targeted for the Apple iPad are often packed with innovation, hardware add-ons and innovative external hacks have lagged a bit behind. Now one tech obsessive has taken matters into his own hands and given us an example of how the iPad can be used in a way that lends some credence to the recent pejorative "iPad nano" term used to describe the iPhone.
Connecting the the iPad to the Moshi Moshi 01H handset and using Skype software, one can essentially turn the device into a giant, albeit somewhat old school, telephone. Going on sale today, you can pick up your own Moshi Moshi 01H handset for just $29.99 here.
Via BoingBoing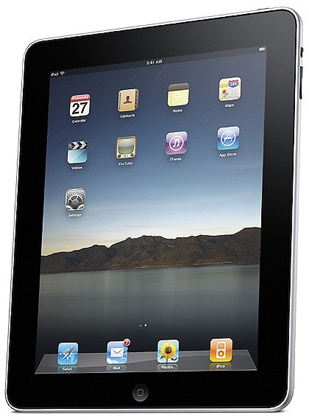 The new bookstore for the iPad (see "Is iPad a Gamechanger?") will include comics and graphic novels as one of 20 "top-level" categories, according to the blog on AppSlice, a new tool for browsing and finding apps. Manga will be included as a sub-category within the comics and graphic novel category, along with others. The 20 top-level categories will include around 150 sub-categories over-all.
This represents a significant improvement in the merchandising of digital comics as compared to the current sales through Apple's app store, which will make comics easier to find for readers using the new device.
Remember that super-polished version of Resident Evil 4 we saw strutting its stuff on iPhone? Well, it's available right now for purchase in the App Store — and suspiciously smushed down to 37.3 MB. While the game sits on the pricier side of the app spectrum (and is missing elements from the console versions), anything called "Resident Evil 4" is almost impossible for us to resist.
Almost.
[Via App Advice]
Resident Evil 4 (Capcom, $7.99):