The UK's Financial Times newspaper that "confirms" Apple will release a touch tablet in September. This account various in timing from two leading theories: an October release and a ship date in "early 2010." But as I wrote in a recent column, regardless of when the tablet ships, the device will transform the industry.
Meanwhile, there is other evididence of a tablet in September or October, such as Toshiba "ramping up" production of flash memory chips during the month of August.
iPhone app developer MobilityWare just let us in on some pretty impressive revenue stats for its game Word Warp. On average, Word Warp brings in just over $10,000 a month.
That isn't revenue from sales of the app, however, but via advertising, at an eCPM rate of $1.91 since September 2008. iPhone owners have the option of buying the game for 99 cents, or downloading a free version that feeds interstitial ads in between matches, sent via iPhone ad network Greystripe. In a phone call yesterday, MobilityWare marketing director Dave Yonamine told me that less than 20 percent of total Word Warp owners opt for the paid version; instead, they overwhelmingly go for the free, ad-driven version, downloading it roughly 1.5 million times.
"We're going to give consumers that choice," Yonamine told me, "and whatever they go with is fine with us." By offering that choice, the company gets another healthy revenue stream besides app purchases, on a game, which by Yonamine's estimation, cost mid-five figures to develop.
The advertising income also helps the company fund updates and enhancements to the game, which in turn helps keeps Word Warp relatively popular. More than a year after being in the Store, Yonamine said, the app still gets thousands of downloads a day. As he put it, "I find it humorous that people say the ad-support model is flawed."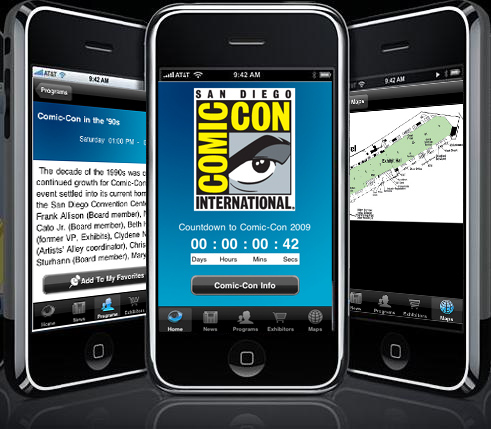 iPhone owners who are headed to San Diego this week should download the official Comic-Con iPhone app. It basically provides all the information you would normally find in the official Comic-Con International program book, including maps of the halls and exhibit floor, program schedules, and a news feed without having to lug around that heavy program. Plus the programing line-up and exhibitor listing is easily searchable, and the maps are multi-touch zoomable (of course).
I'm sure this will come in handy during the five-day convention. Its not perfect. The maps don't switch to landscape mode, and the exhibitor and panel search could be improved if they actually integrated with the maps (showing you where to go). But my hats go off to Comic-Con for putting the extra money into a possibly very useful tool. Best part is it's FREE.
And I'm sure in future years the app will only get better. Social integration would be awesome, allowing you and your friends to create and share customizable schedules. Fantastic Fest and SXSW have some great social features like this on their website.
Sega today announced intentions to bring Streets of Rage to the iPhone. When's it coming out you ask? How's about right now! That's right, folks. Because of Apple's policy on speaking about iPhone apps/games before release, Sega simultaneously announced the game's existence with its release.
Unfortunately, our friends at Touch Arcade were none too impressed with Sega's port, saying the game suffers from tremendous slow down and renders the game "unplayable on the 3GS." Oh no! We're too busy spending our time with Drop7 to play anything else on the iPhone, so how about you tell us, Joystiq Biomass[TM]. Anyone drop the $4.99 for Streets of Rage today and encounter any problems?
In recent months some have chirped that the iPhone is really a sort netbook in disguise, and now with the debut of a new prototype, the iPhone may start doing double duty as an ultra portable server solution.
Created by Japan's FreeBit, the iPhone server farm prototype houses up to five iPhones and is really just a showcase for the company's Serversman software.
The free software supports the iPhone, iPod Touch and Windows Mobile phones allowing you to use your phone for network storage, as a file viewer or as a mini-web server. You can see a video explanation and demo of the entire set-up here.
Via IT Media
We know, we were shocked too! Well, maybe not shocked, considering that Resident Evil 4 popped up on the Japanese App Store before it was pulled right down. The game will return (legitimately this time) to Japan by month's end.
If you're nowhere near the Land of the Rising Sun, fear not! Capcom says the game will roll out to the rest of the world soon after.
Japan-based Elecom today announced the Soundblack [JP], an iPod dock connector/speaker for use with a number of iPod models (iPod 5G, iPod touch 1/2G), iPod classic and iPod nano 1/2/3/4G). The 0.04W mini system doesn't support the iPhone though.
The Soundblock will be available from the middle of July exclusively in Japan, but Geek Stuff 4 U already accepts preorders from people living outside this country (price: $42+shipping). Users are able to choose between 10 colors.
If you're on the lookout for a dock, this one definitely has a little bit of that mad scientist appeal that would definitely keep life interesting.  The colors within the ball on it will actually move about along with the beat of the music.  Which would give a cool lighting effect while you're listening to your favorite songs.  While you're becoming entranced with the shining bright lights, your iPod gets to sit on the dock and charge up.
Not only can it charge and be played through the dock, but you can also hook it up to your computer to have it synced with your computer.  The dock also has a clock on it, which has an alarm that allows for you to wake up to the music directly from your iPod.  If you've had enough of your iPod, you can switch modes and listen to the AM/FM radio instead.
It actually claims that it will work with any iPod, that can hook up to a dock, so yours should work with this.  You can purchase it for $34.99.
If you're going to have a chocolate cake with raspberry Swiss meringue buttercream filling, you might as well have one shaped like an iPod Touch. The cake was made for somebody's 16th birthday party by out-of-control baker April Julian. (props to Make)
Any iPhone can play video, but that little 3.5 inch screen just isn't going to cut it if more than a couple of people want to watch your latest magnum opus. By plugging your iPhone into this Mili Pro LED projector, you can create a picture as big as 70 inches across. Although as with most of these tiny projectors, the limited light output means 30-40 inches is probably a better size if you want a reasonably bright picture.
The clamshell design folds open to reveal a built in dock for an iPhone or iPod Touch, or you can use its VGA and AV ports to connect external sources such as a DVD player or computer. There's even a tiny pair of built in speakers to give you some audio. Resolution is 640×480, so don't expect this to magically become some kind of spectacular home theater in your pocket.
The Mili Pro should sell for a little under $300 when it arrives in September.