Our big, bad digital era's been caught red-handed overturning media industry business models before, so it comes as no surprise that publishing houses have a new headache on-hand. Straight outta sunny Seattle comes word that Amazon has welcomed its first self-published author to the "Kindle Million Club."
John Locke (so this is where he wound up after going to that quasi-'heaven') is the lucky dude who gets to claim the prize, and that's not all — Mr. independent-author-from-Kentucky now shares bold-face status with the likes of Stieg Larsson and Nora Roberts.
By churning out action / adventure novels on the $0.99 cheap and making heavy use of some leggy lady models, Locke easily blew past the one million mark, and even has a book to tell you how he did it. Take that evil publishing overlords. Hit the break for Amazon's official PR spiel.
Continue reading Self-published Kindle author breaks one million in sales, legs might have something to do with it
Robert Kirkman's Image Comics series The Walking Dead, which has already been adapted into a TV show that will debut on AMC on Halloween, will soon infect the realm of prose thanks to a trilogy of original Walking Dead novels that will be published by Thomas Dunne Books, an imprint of St. Martins Press.
According to Deadline, the books will be "conceptualized and outlined" by Kirkman before being written by horror novelist Jay Bonansinga (Perfect Victim). The novels will take place in The Walking Dead universe, but will feature original plots. Kirkman himself was the first to bring his creation to straight prose with a short story that he wrote entitled "Together, Alone," which was published in the horror anthology volume The Living Dead 2, which was published by Night Shade Books in September.
Twilight fans were crushed back in 2008 when Stephenie Meyer announced she had ceased work on the Midnight Sun companion novel after 12 chapters of her unfinished manuscript were leaked online. But based on a recent interview, there's now an entirely different reason why the author is holding off on finishing the book, which is meant to show the events of Twilight from Edward Cullen's point of view rather than Bella Swan's.
It turns out that unlike her fans anxiously awaiting the premiere of the film The Twilight Saga: Eclipse on June 30, Meyer is "burned out on vampires."
In an interview with twilightseriestheories, the author had this to say when asked how she was coming on the writing of Midnight Sun:
"I know that's what everyone cares about. I also know that the right answer would be for me to say 'Oh yah, it's done! And it'll be out next month!' But that's not true. It's also not true that I've got a ton of work done on it, and that's what I'm working on. What's true is that I'm really burned out on vampires. And, I don't want to write it badly. So I want to wait until I'm excited about the material again, and I'm excited about Edward, and that it's something that's motivating. You know, when a story is keeping me up at night, and I'm waking up at 4 am in the morning and thinking 'Yes! That is what should happen in this moment!' Then that is when I can write with happiness! So, right now it feels like homework … it really does. And when things feel like homework they go very, very slowly for me."
Added Meyer: "That should disappoint everyone!"
So—are you disappointed?
by Hugh Cook, with an introduction by China Miéville
Paizo Publishing announces a reprint of a classic that's been very hard to find for years…
A boy of sixteen, swordsmith's apprentice Drake Douay loves nothing more than booze, loose women, and causing endless amounts of trouble. Yet when he's sentenced to death by the merciless ogre king of his homeland, Drake has no choice but to sign on with two warring and ragtag gangs of pirates. Thus begins a life of adventure, treachery, and debauchery as Drake sails a strange world of high magic and forgotten technology, driven ever onward by his unrequited lust for the red-skinned priestess Zanya. Yet even the monstrous, insectile Swarms of the south are nothing compared to the trouble Drake finds when he returns home to discover that his former master has become the head of a new religion. And killing Drake is its first commandment…
Never before published in a North American edition, The Walrus & the Warwolf blends fierce sword and sorcery with vivid world building to create a classic of modern fantasy. This edition also comes complete with never-before-seen illustrations and an insightful introduction by award-winning fantasy author China Miéville (Perdido Street Station, The Scar).
464-page softcover trade paperback ISBN-13: 978-1-60125-214-2
Who would have thought that even a company like Acer would take the plunge into the world of ebook readers? Well, that has happened with the Acer LumiRead, the latest device from Acer that touts to offer users an excellent reading experience as it seamlessly integrates in the Acer clear.fi solution. Since the Acer LumiRead is also DLNA compliant, it can access Acer clear.fi and share contents like eBooks and audio-books as well. Being light and extremely slim in profile, the Acer LumiRead is perfect for those who want to catch up on their reading when traveling, regardless of whether you're indoors or outdoors, reading on the e-Ink display is a snap. Just in case you have already finished all of your downloaded tomes, you can also hook up via a Wi-Fi or 3G connectin to download the latest bestseller as well.
Currently, Acer has already signed agreements with Barnes & Noble, where they already offer over a million titles in its eBooks store. As for those living in Germany, an agreement has been signed with Libri.de, Germany's leading Internet book retailer offering over 4 million titles. Folks in China can liaise with Founder, while others living in France and Italy will have to wait a short while more as other agreements are more or less being formalized as you read this. What does the LumiRead offer? For starters, it comes with a 6? e-Ink display that is glare-free, making it suitable to be read even under bright sunlight. Measuring a few mm thin, you can be sure that toting this around is a joy.
2GB of flash memory ought to be able to hold around 1,500 books, but you can easily expand that amount by throwing in a microSD memory card. The inclusion of an innovative ISBN scanner lets you scan ISBN codes, allowing you to create your own wish-list and search on supported online libraries and book stores. Acer also introduced a QWERTY keyboard onto the LumiRead, making it easier to browse the web while finding and sharing information on books. With an auto-layout, you are easily able to adjusts the content to offer the best reading experience according to the format automatically. No word on pricing or availability as at press time, but we hope that more details will roll out soon.
Here is an announcement that appeared on Stephenie Meyer's site a few days ago and it concerns a new published work of hers…
Surprise!
I have a new book coming out. It's called The Short Second Life of Bree Tanner: An Eclipse Novella
. Well, it's more of a novella than an actual book—my version of a short story.
Actually, this has been a surprise to me, too. The reason why it's a surprise was that I never intended to publish this story as a stand-alone book. I began this story a long time ago—before Twilight was even released. Back then I was just editing Eclipse, and in the thick of my vampire world. I was thinking a lot about the newborns, imagining their side of the story, and one thing led to another. I started writing from Bree's perspective about those final days, and what it was like to be a newborn. Read more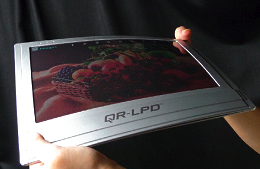 "Based on a technology Bridgestone calls Quick-response Liquid Powder, the company's all-color touchscreen e-book reader is about 5.8mm thick, features a 13.1-inch touch-sensitive e-paper display (with 4,096 colors and a refresh rate of about 0.8 seconds), and some sort of unspecified mobile phone connectivity."
This just in from Chaosium:
Mysteries of the Worm
New Edition to Release August 2009.
The book is printed and should arrive at our warehouse next week.
Mysteries of the Worm
20 Early Tales of the Cthulhu Mythos by Robert Bloch
Third Edition
$15.95
CHA 6037
ISBN 1-56882-176-X
ISBN-13: 978-1-56882-176-4
288 pages
Trade Paper Back
Horror Anthology
Introduction by Robert M. Price
Cover Art by Steve Gilberts
"H.P. Lovecraft – like his creation, Cthulhu – never truly died. He and his influence live on, in the work of so many of us who were his friends and acolytes. Today we have reason for rejoicing in the widespread revival of his canon… If a volume such as this has any justification for it's existence, it's because Lovecraft's readers continue to search out stories which reflect his contribution to the field of fantasy [the tales in this book] represent a lifelong homage to HPL… I hope you'll accept them for what they were and are – a labor of love."
– Robert Bloch
This third edition now includes the Robert Bloch short stories The Opener of the Way, The Eyes of the Mummy, Black Bargain, and Philtre Tip.
This book is one in an expanding collection of Cthulhu Mythos horror fiction. Call of Cthulhu(R) fiction focuses on single entities, related topics, and authors significant to readers and fans of H. P. Lovecraft.
Introduction by Robert M. Price
The Secret in the Tomb
The Suicide in the Study
The Shambler from the Stars
The Faceless God
The Grinning Ghoul
The Opener of the Way*
The Dark Demon
The Mannikin
The Brood of Bubastis
The Creeper in the Crypt
The Secret of Sebek
Fane of the Black Pharaoh
The Eyes of the Mummy*
The Sorcerer's Jewel
Black Bargain*
The Unspeakable Betrothal
The Shadow from the Steeple
Notebook Found in a Deserted House
Terror in Cut-throat Cove
Philtre Tip*
Afterword, by Robert Bloch
Demon-Dreaded Lore, an appreciation by Lin Carter
When Ben Bova started his Voyagers saga in 1981, the world and his depiction of it were obviously quite different from the way they manifest in 2009, as the fourth volume in the series surfaces nearly 20 years after the third (Star Brothers, from 1990).
How to reconcile any improbabilities between yesterday's tomorrows and the up-to-date scenario Bova wants to examine now? Easy enough! Bova has his protagonists accidentally jump laterally across the multiverse to another timeline than the one they started in. Now that's a handy drift!
In any case, our tale, The Return (Tor, $25.99), concerns the reappearance of star traveler Keith Stoner, his wife Jo and their kids, Cathy and Rick. After their encounter with alien tech, the family has assumed super-science powers such as mind-reading and teleportation. Arriving at a dystopian Earth on the point of destroying itself with nuclear war, they feel compelled to help rescue the race from self-destruction. But as Stoner ruefully acknowledges, compulsion is a dead end. Only re-education can make for a stable future. Trouble is, "Against stupidity the gods themselves contend in vain."
As Stoner deals with various power blocs on Earth, from the U.S. religious dictatorship known as the New Morality to their counterparts, the Islamist and Chinese dunderheads, as well as with the more enlightened spacers on the moon and around the Jovian worlds, he has transformative impacts on a variety of folks, from Sister Angelique, an ambitious politico, to Raoul Tavalera, a common-man type who finds himself sacrificing his own happiness for the good of the species. Stoner comes across as a believable human-turned-demigod, but his family, garnering less screen time, remains rather unformed.
Combining elements of Lost in Space (1965), The Day the Earth Stood Still (1951), The Man Who Fell to Earth (1963) and 2001: A Space Odyssey (1968), Bova's conclusion to his quartet (and it does seem like a pretty definitive ending to me) offers little in the way of fresh speculation or thematic lessons that the genre has not trafficked in for decades. But dramatic counsel about the consequences of pigheadedness and shortsightedness is always a valuable, timeless offering from the SF genre.
Stephen King's apocalyptic horror novel Cell is about a signal sent out to cell phones that turned all who heard it into homicidal monsters. Now a different sort of cell phone message has gotten King's book publisher, Simon & Schuster, embroiled in a horror story that's far more frightening that fiction—one involving the legal system.
An appellate court ruled Friday that Simon & Schuster might have violated federal law by allegedly sending unsolicited text messages promoting Cell, Online Media Daily reported.