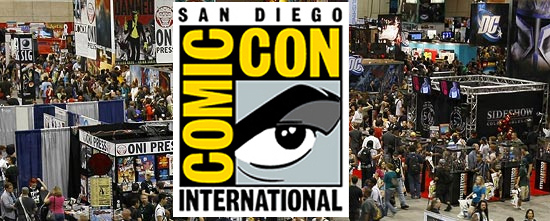 There's not too much more to this than what's in the headline; after a great deal of back and forth about possibly moving the San Diego Comic Con to another city, such as Anaheim, the con has decided to stay put. The organization had previously been contracted to do business in San Diego through 2012, and the imminent end of that period kickstarted speculation about moving. Now a new three-year deal will keep the con in its home city of San Diego until 2015.
Comic Con has grown significantly over the past ten years, to the point where the Con is arguably far larger than San Diego can realistically accommodate. The convention center has officially been sold to capacity (125,000) each year since 2007. Hotels have been enlarged (and built from scratch) and rooms still sell out almost as soon as they go on sale. The massive convention center has even been looking outsized, with more and more events going off-site in the past couple years.
Comic Con marketing director David Glanzer said "L.A., Anaheim and San Diego all had unique understanding of the challenges we faced and tried to mitigate those. In the end, we looked at what was best for the attendees." He explained that San Diego "really came together to try to make it work for us."
Some of the city's efforts likely include the construction of more hotel rooms and additional convention facilities, but the con's current waterfront location is rather limited with respects to the prospect of further expansion. We'll hear more plans from the city of San Diego soon, and a great many attendees will be very interested to see if the plans seem far-reaching enough to keep the convention from moving in 2015.
The San Diego Convention Center Corporation has scheduled a press conference for Friday, October 1 at 11:45 a.m. at Lobby E of the convention center.
Citing "this soft marketplace," DC Comics Co-Publishers Jim Lee and Dan Didio announced the end of the Wildstorm imprint in December. Wildstorm's licensed comics, which include a number of video game-inspired titles such as Resident Evil, Clank, and Rachet will continue to be published (along with Wildstorm's kids titles) under the DC imprint. DC will also stop publishing under the ZUDA banner. Titles that were scheduled to come out under the ZUDA imprint this year will appear as DC books.
Didio and Lee made their announcement on DC's The Source blog noting that: "After taking the comics scene by storm nearly 20 years ago, the WildStorm Universe titles will end this December. In this soft marketplace, these characters need a break to regroup and redefine what made them once unique and cutting edge. While these will be the final issues published under the WildStorm imprint, it will not be the last we will see of many of these heroes. We, along with Geoff Johns, have a lot of exciting plans for these amazing characters, so stay tuned."
Originally part of Image Comics, Wildstorm was Jim Lee's studio and he brought it with him when he joined DC in 1999. According to the Source, "the WildStorm editorial team will undergo a restructuring and be folded into the overall DC Comics Digital team, based in Burbank, which will be led by Jim Lee and John Rood." Clearly the end of the Wildstorm unit was tied in to the downsizing and consolidation of DC operations attendant on the transfer of many of DC Entertainment's units to California (see "The Cost of Consolidation").
Honestly, we would never have thought that [redacted] would be the character to bite the dust in "The Passing," but there it is. Sure, we could've pictured [redacted] dying, or [redacted] — heck, even [redacted] — but [redacted]? Life's a trip, qué no?
Thing is, we never figured out how that particular survivor perished — not until now. The first two parts of Valve's four-part, 150-page digital comic primer for "The Sacrifice," the upcoming DLC for Left 4 Dead and Left 4 Dead 2, is now online. Give both issues a read by heading over to the Left 4 Dead Blog.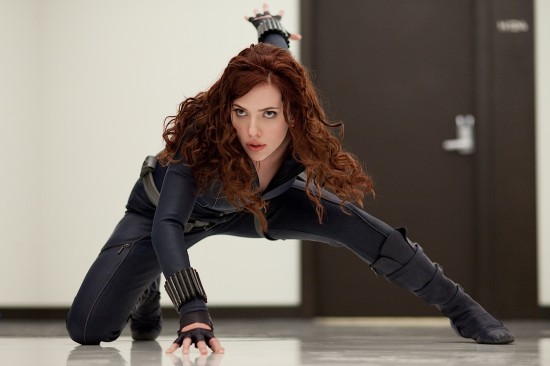 Several months back, somebody asked Marvel Studios president Kevin Feige if Iron Man 2 side character and The Avengers team member Black Widow (played by Scarlett Johansson) would be getting her own solo outing, to which he replied that it was "definitely possible". While more revelatory than a flat "no", that response doesn't mean much in the world of Hollywood. When it comes to a potentially bankable property, a studio isn't likely to outright write off an opportunity to take advantage of it.
In the case of a Black Widow movie though, there may have been more truth to Feige's words than previously suspected. Read what he had to say after the break.
Feige mentioned that there was movement on the project in a Q&A to promote the DVD and Blu-ray release of Iron Man 2, which you can read in full over at Superhero Hype. The relevant bit is below.
We've already started discussions with Scarlett about the idea of a solo movie and have begun putting together concepts, but 'The Avengers' comes first.
Well, naturally. The Avengers coming first is kind of a necessity here, isn't it? Iron Man 2 only really served as an introduction to the character, doing more to show off her form-fitting attire and fighting abilities than present a role with any sort of human complexity. Were The Avengers to somehow find the time amidst the half dozen other team members to imbue Black Widow with a conflict and character arc worth investing in, then obviously a Black Widow movie could have potential. It's possible that even Jeremy Renner as Hawkeye could play a part in it, as his relationship with Black Widow is said to factor into the story of The Avengers.
All of this is still a ways off though, so let's return to the topic once we see how The Avengers fares. The film hits theaters May 4, 2012.
In an open letter supporting the Video Games Voters Network, comic book grandmaster Stan Lee drew a parallel between censorship of comic books in the 1950s and new laws aimed at curbing videogame violence. Lee's letter comes just weeks before the U.S. Supreme Court takes up the case of a California law, which would ban sales of violent video games to anyone under 18, levy fines against retailers for any infractions, and require a new violence rating code. The California law, which was signed by Governor Arnold Schwarzenegger, was declared unconstitutional by the 9th Circuit Court of appeals, but the 9th's decision could be overturned by the Supreme Court.
In his letter, which is printed in full on the VGVN site, Lee recalled the excesses of the anti-comic book movement in the 1950s: "My memory has always been lousy and it's not improving with age. But it's good enough to remember a time when the government was trying to do to comic books what some politicians now want to do with video games: censor them and prohibit their sales. It was a bad idea half a century ago and it's just as bad an idea now. Comic books, it was said, contributed to "juvenile delinquency." A Senate subcommittee investigated and decided the U.S. could not "afford the calculated risk involved in feeding its children, through comic books, a concentrated diet of crime, horror and violence." Comic books were burned. The State of Washington made it a crime to sell comic books without a license. And Los Angeles passed a law that said it was a crime to sell "crime comic books." Looking back, the outcry was — forgive the expression – comical…
"The more things change, as they say, the more they stay the same. Substitute video games for comic books and you've got a 21st century replay of the craziness of the 1950s. States have passed laws restricting the sale of video games and later this year, the Supreme Court will hear a case about one of those laws, this one passed in California. Why does this matter? Because if you restrict sales of video games, you're chipping away at our First Amendment rights to free speech and opening the door to restrictions on books and movies."
Disney is rolling out a digital comics application for Apple's iPhone and iPod touch and Sony's PlayStation Portable globally beginning in Italy and soon to include the U.S. and UK, with rollouts in key markets throughout the world in 2010.
Disney DigiComics will begin by offering a relatively modest fifty downloadable comics featuring Mickey Mouse, Donald Duck, and other familiar Disney characters via in-app purchases, according to the Disney Comics Worldwide blog. The company will then begin adding five to ten new comics weekly, continuing storylines.
The comics were originally created for newspapers and magazines in Disney-crazy Italy, though in the future new content may be created just for the application. Series available first, according to the report, are X-Mickey, Wizards of Mickey, The Canterville Ghost, and Phantom of the Opera. Wizards of Mickey is published in the States by Boom! Studios (see "Boom's Disney Standards").
Up to 50,000 stories from the Disney archives are eventually planned for release through the app, according to Italy.
The new application represents a divergence from Disney's digital strategy for desktop, where it's pursuing a subscription model. Disney Books is now offering over 500 titles online by subscription for an annual fee of $79.95 (see "Disney Makes Children's Books Available Online").
Thanks largely to the success of its Blackest Night event, DC dominated the top ten once again with eight out of the top ten titles in November. Blackest Night #5 actually boosted its circulation by 5% with help from a special ordering incentive that featured seven differently colored "Lantern Promotional Rings." A similar promotion was potent enough to lift Booster Gold #26 into the top 25 at #19. Four other Blackest Night tie-ins, Green Lantern #48, Justice League of America #39, Adventure Comics #4, and Green Lantern Corps #42 all made the top ten.
The top Marvel title was Captain America: Reborn #4, which came in at #3, didn't ship in November where its absence hurt the Marvel line-up, which couldn't manage better than a seventh place finish. Marvel still managed to secure 14 out of the top 25 spots with 25th place going to the Thor Giant Size Finale written by JMS, which in spite of a slew of variant incentives (1:25 and 1:50), suffered an 18% decline in sales from the previous JMS issue (#603), which came out in September.
It's as inevitable as the tides. Once something becomes a genuine industry to the tune of a $4 billion dollar marriage, the lawsuits quickly follow. On the heels of the Siegel and Shuster lawsuits that dismantled the world of Clark Kent comes a lawsuit from the estate of Jack Kirby that targets all things Marvel. According to The New York Times, the Kirby heirs have sent 45 notices of copyright infringement to Marvel, Disney, Paramount, Fox, Sony, Universal, Hasbro, and just about everyone else in the world. Kirby created (or co-created alongside Stan Lee) just about all the big Marvel characters so anyone using them must now face the the Kirbys and Toberoff & Associates. (The same law firm that handled the Siegel and Shuster lawsuits, which is no coincidence.)
The Kirbys seek to win the copyrights back to Hulk, Thor, Iron Man, X-Men, Fantastic Four, etc., and claim some (or all) of the profits. If they win back the copyright, it wouldn't kick in until 2014 so presumably they wouldn't be able to claim the "back profits" the characters have made, but anything going forward would be a problem. As Bleeding Cool notes, Disney and Marvel will always own the trademarks, and the movie studios would probably also be safe in their acquisitions, but continuing to publish anything Kirby created would be problematic.
The attorney Marc Toberoff declined to comment on the case, but Disney released an official statement that shrugged off the lawsuit, noting "the notices involved are an attempt to terminate rights 7 to 10 years from now, and involve claims that were fully considered in the acquisition." This will undoubtedly be a case fraught with as many tangles as the Siegel and Shuster suit was. Will Marvel end up owning Iron Man's armor, but the Kirbys will own Tony Stark and Pepper Potts? Will it create problems for Marvel Studios down the line? We shall watch and see.
<–Chairman of Comic-Con's first committee Ken Krueger
The 40th annual San Diego Comic-Con wrapped up Sunday, with another capacity crowd enjoying a smoothly run show. Ken Krueger, the chairman of the very first Comic-Con, was one of several members of the original organizing committee who were invited back to celebrate the 40th anniversary. Other committee members from Comic-Con's early years were also present as guests.
The massive presence from Hollywood shifted a bit this year, with a greater emphasis on television. Comic-Con Director of Marketing and Public Relations David Glanzer described the shift. "There was certainly a lot more presence from television this year," he said. "And there may have been less movies in some instances. But not everybody has a project they want to promote to this group every year."
We asked Glanzer about the continual sellouts of the show, which are capping its growth. "The mayor has appointed a task force on the expansion of the convention center, and they will render a decision on that in September and the mayor says that he will abide by whatever their recommendation is," he said.
The convention utilized tents for some signing space, as well as the main ballroom at the Hilton Bayfront as additional space this year, and use of outside space may grow in the coming years, Glanzer told us. And although the convention did not increase the number of tickets this year despite the additional space, that step may be taken in future years, allowing a greater number of attendees despite a maxed-out convention center. .
"The Amazing Spider-Man" hit another milestone this week-the publication of its 600th issue.
As a celebration, the issue features the return of Doctor Octopus, a guest spot by Daredevil, a wedding and the return of Mary Jane Watson.   In addition, there are several short stories by some of the iconic writers for everyone's favorite web-slinger, including a new story by Stan Lee.
This milestone in the making will feature four different covers by father and son artists John Romita Sr, John Romita Jr, master painter Alex Ross and Marvel Editor in Chief, Joe Quesada.
The issue weighs in at 104 pages and is currently available at a comic store near you.