I found this story just now and I'm not sure I'm looking forward to this one.  My idea of what Conan is and most other peoples' are two different things. 
What do you call a reboot when the film in question involves going back to a previous film template? Robert E. Howard's long-running character Conan the Barbarian came to screens incarnated by Arnold Schwarzenegger, in one of the actor's earliest starring gigs. Arnie did two movies, but a year ago the character was rebooted by director Marcus Nispel with Jason Momoa starring.
Conan's wheel has turned again, however, and Schwarzenegger is stepping back into the role for The Legend of Conan, which is being described as "Conan's Unforvigen."
Deadline reports that Universal will release the film, produced by Fredrik Malmberg of Paradox Entertainment, which holds the Conan rights, and Chris Morgan, writer of the last four Fast and Furious Films. Morgan came up with the story and might script. Universal wants this one to be in theaters for summer 2014.
This film will pretend that Arnie's second film (Conan the Destroyer) didn't happen, and will also ignore the 2011 reboot. Malmberg said,
The original ended with Arnold on the throne as a seasoned warrior, and this is the take of the film we will make. It's that Nordic Viking mythic guy who has played the role of king, warrior, soldier and mercenary, and who has bedded more women than anyone, nearing the last cycle of his life. He knows he'll be going to Valhalla, and wants to go out with a good battle…This movie picks up Conan where Arnold is now in his life, and we will be able to use the fact that he has aged in this story. I love the property of Conan so much that I wouldn't touch it unless we came up with something worthy. We think this is a worthy successor to the original film. Think of this as Conan's Unforgiven.
The catch is that they don't know if the film will be R-rated, which seems like a shaky place to start. If you're going to play directly to fans of the original film by bringing Arnie back, the new film has to have a similar tone. Morgan addresses that question:
Will that level of violence be there? Absolutely, but only if it serves a character who lives by that barbarian law of the wild, who is capable of extreme violence and rage, but who has created his own code and operates from within it. By the end of that film, Conan became a certain character, and this film picks him up there, as he faces different challenges that include dealing with age.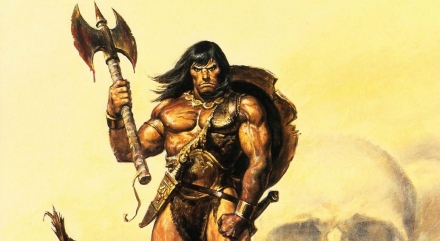 Hack director Brett Ratner might not have a chance to ruin the legacy of Conan after all. That's right, the Rat has departed from the reboot due to scheduling issues. Producer Joe Gatta tells Empire:
"We're currently in the process of hiring a director. For the past six months we were discussing the movie with Brett Ratner, and for more timing issues than anything else we had to part ways with Brett. We all wanted him to do it, believe me; just the timing didn't work. But you never know what can happen."
The current plan is to being production on August 24th in Bulgaria, and as soon as they find a director, the search will be on for a star to play the iconic role.
Ratner revealed last month that he is close to going into production on a project titled Trump Heist, written by Ocean's Eleven scribe Ted Griffin. Another action comedy, rumored to feature Eddie Murphy, Chris Rock, Dave Chappelle and Chris Tucker as a group of employees of the Trump Tower who conspire to rip off the building's residents. Sounds like a project better suited for his "talents".
Ratner isn't that he's a bad director, he's very serviceable, mediocre, and middle of the road. But the Rat's films have been successful to the point that he's being offered big franchise films, and that is where my issue with the director begins. I have no problem with the guy making another Rush Hour, the Hugh Heffner Story, or another middle of the road action movie. I just wish he would stay away from the Conans and Beverly Hills Cops.
Discuss: Who would you like to see direct Conan?
The Age of Conan is coming…
The war has begun, and every nation is sending forth armies. In Age of Conan, you take control of one of four mighty empires. Will you lead the military might of Aquilonia, crushing the forces allied against you? Will you adopt the mantle of the magical Stygians, and use your powers to lay waste to the peoples of the lands?
Each kingdom rules differently, and has unique powers to bring forth in the conquest of the world. In the midst of the war, Conan moves about the land, slaying monsters and claiming plunder. Many leaders have tried to control the awesome power of Conan, but no ruler is ever fully in control of the Cimmerian.
The latest video from Fantasy Flight gives you a glimpse into the world of the thief and reaver, the slayer and barbarian, Conan! Read more
BATMAN #685
CAPTAIN AMERICA #46
CONAN THE CIMMERIAN #7
DARK TOWER TREACHERY #5 (OF 6)
MARVEL MINIMATES SECRET INVASION BOX SET
STAND CAPTAIN TRIPS #5 (OF 5)
WATCHMEN MOVIE ASST #1 BALANCED CASE ASST
CONAN THE CIMMERIAN #7
MAXIMUM RIDE TP VOL 01
SOLOMON KANE #4 (OF 5)
WATCHMEN MOVIE OZYMANDIAS BUST
WATCHMEN MOVIE RORSCHACH BUST
WORLD OF WARCRAFT #15
Matthew Sprange of Mongoose Publishing has announced a host of projects for 2009 including a new Judge Dredd RPG, which will be based on the Traveller rules. A full color hardback Judge Dredd RPG Rulebook will be next summer and will be followed by a campaign book and a complete sourcebook on the Justice Department. Mongoose is also planning a new Judge Dredd Miniatures Game based on the original Gangs of Mega City One game, but with a much larger scope.
The Judge Dredd games (along with a forthcoming Strontium Dog RPG) are the fruits of Mongoose "accepting an offer it couldn't refuse" (minus the horse head) from video game company Rebellion (see "Mongoose Joins Rebellion"), which controls the 2000 AD rights. The deal has provided Mongoose with more than just access to cool properties. Mongoose is now planning on publishing all projects of a certain length (around 200 pages) and using far more color in all its releases. Here's a quick rundown on Mongoose's plans for its various lines during 2009.
Traveller
In 2009 Mongoose is expanding its science fiction RPG with a number of new core books, some of which (Scoundrel, Agent) will cover characters, while others such as a Civilian and Military Vehicle Supplement and a Central Supply Catalogue. But in 2009 Mongoose is also implementing its long term plan under which Traveller becomes not just a single setting, but a core system able to handle all science fiction gaming. Typical of the latter is Hammer's Slammers, a full color hardcover RPG adaptation (using the Traveller system) of David Drake's classic science fiction series that will be available in April.
The long-promised DirectX 10 support for Age of Conan: Hyborian Adventures will arrive in the "next major game update" for the PC MMO, developer Funcom has revealed.
"We have been determined that the new DirectX 10 functionality would not just be a 'gimmick' addition to the game and would add visual quality to the game," newly appointed game director Craig Morrison wrote in his November Letter.
"We feel that the version we are preparing now for testing does achieve this and in a way that will find the right balance between visuals and performance," he added.
While Morrison did not specify when the "major" update will arrive, he revealed that the next update will pack two new dungeons "aimed at maximum level players" in an attempt to begin filling "content gaps [at] the highest level."
Source: ShackNews.com Read more
Brett Ratner has chosen to direct a 21st-century reboot of Conan, based on Robert E. Howard's original pulp stories, instead of a fourth Beverly Hills Cop installment, according to The Hollywood Reporter.
Nu Image/Millennium and Lionsgate Films will produce the new Conan. As of Nov. 7, Ratner committed to take on literature's most famous barbarian and is in final negotiations to helm the picture, which is aiming for a release in early 2010.
Joshua Oppenheimer and Thomas Dean Donnelly wrote the Conan script, based on Howard's original 1930s character. The writers are doing a quick polish to incorporate some of Ratner's ideas.
Millennium and Lionsgate reportedly envision a very R-rated approach in the $85 million budget range. Preproduction is under way for a shoot at Nu Image's Nu Boyana Studio in Bulgaria.
The story opens on the battlefield where Conan is born and tells the origin story that sets the stage for what will be the first of multiple films.
Source: Scifi Wire
Marco Signore over at BoardGameGeek.com has posted some information on the current status and an overview of Age Of Conan: The Strategy Board Game…
During the 2008 edition of Lucca Games (Italy), I've been given the honour of being the offical demonstrator for Age of Conan boardgame (I will also post pictures of the event soon), in the Nexus stand. In four days of continuous play (from 9 a.m to 7 p.m.) I've played and taught to play enough games to gain a decent understanding of both rules and mechanics of this highly expected boardgame. I've talked at lenght with one of the authors (Roberto Di Meglio) and so I've decided to write this preview/review.
I will not focus on the rules, as many other reviews in this forum (from demo games) have already told you about "the rulebook"; I will instead attempt to offer a deep insight into what is the final "version" of the game, and its gameplay.
WARNING: Please note that some of the game terms will be different in the English Rules. This is because the Demo copy in Lucca was in Italian, therefore I have not been able to read the English rules.
Box content
Judging from the "final" demo copy of the game, the box will contain a rich hoard of materials that will enhance the gaming experience. The game, as most of you may have learned, is for 2, 3 or 4 players. Each player takes the role of one of the major Powers in Hyborea during the Age of Conan: Aquilonia, Turan, Stygia, and Hyperborea. In a 2-players game, only Aquilonia and Turan will play. The 3rd player will take Stygia, and Hyperborea is reserved for the 4th player.
Each Power has its uniquely sculpted Military units and Emissaries (Diplomatic units), while Fortresses and Towers are similar for all players (but of course different in colour). Furthermore, each Power has its own card deck, called Reign (or Realm) deck. Each power starts with 4 Military units, and 4 Emissaries.
Finally, each player takes 3 Gold counters. Aquilonia and Turan take one more Military unit, while Stygia and Hyperborea take 2 Sorcery counters each. Then each player draws two cards from his own Reign deck and two card from the Strategy deck, which is a "common" deck of cards that have several uses (see below). Read more