There has been a concentrated effort on behalf of horror and zombie fans everywhere to get a star on the Hollywood Walk of Fame for George A. Romero, the godfather of zombie cinema.  I've respected this push and I'm all for it.  His contributions to horror are still being felt (especially when it comes to the walking dead) to this day.
Alas, there will no star in Romero's future.
The Zombie Research Society says any hopes of this happening are dead – the Indie GoGo site collecting funds has folded.  Says the site: Our campaign to raise the $30,000 needed to pay for the Star has been protested by the Hollywood Chamber of Commerce.  And because the Chamber is the entity that pockets the money and decides who gets the Stars it does no good to continue in the face of their hostility. Therefore the George Romero Star Project has been shut down.
We haven't heard from ol' George Romero in a while, but allow us to remedy that.  The fellas at Twitch caught up to the godfather of zombies and he provided an update as to what he is working on.  In his discussion with the site, he teased an old project and a new one…
"I am in fact adapting a novel right now, and it is a zombie novel, but it's not my kind of zombies," he told Twitch. "It's a novel called The Zombie Autopsies written by a Harvard medical doctor. It's a wonderful book and I'm having a wonderful time adapting it into a screenplay. I am also working on an original story, which I guess if I had to categorize it, I would say it's a psychological thriller. it's….mmm, Psycho like? But it's not really. I don't know how to tell you anything more without giving it away. But in reality I don't actually know for sure what the next one is going to be. It often comes up out of the blue. You just don't know which one the money is going to come through for. I am also writing a comic for Marvel. I'm writing it now, but it's plot is a secret."
According to our horror loving neighbors at Dread Central, George Romero is in the final stages of negotiations with New York publishers, Grand Central Publishing, to bring readers two novels that would take place within the filmmaker's "Dead" universe.
Considering this deal is still in negotiations it's probably a little premature to get too invested in the idea of original Romero novel, but I must say the notion is intriguing. The few zombie novels I have read have all been pretty great and maybe some of Romero's recent ideas that haven't translated so well on film would be better served in print.
Another thing I should mention is that it sounds unclear as to whether Romero is actually the author of these books or is just presenting them under his banner. We'll have to get clarification on that. If all goes well, the first book will be released in the summer of 2010.
George Romero's '68 classic Night of the Living Dead has opened itself up to various interpretations due to its "public domain" status – less a blessing, more of a curse as history has taught us (see: Night of the Living Dead 3-D ). The latest stab is Night of the Living Dead: Re-Animated .
This is a "collaborative artistic re-envisioning" of the film featuring international artists and animators who are invited to select their favorite scenes and recreate them through the animated medium of their choice (CG, stop-motion, etc.).
For an example, check out the trailer below. The organizers of this endeavor are still seeking contributions and have extended their deadline to April 24th. For more details, visit NOTLDR.com .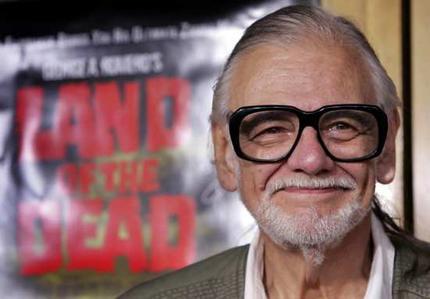 /film has a report on what George Romero has been up to lately…
Last weekend, the Zombies Take Charlotte folk presented American Zombie, a retrospective of pictures by George Romero with an emphasis on the GAR-Z, his zombie movies. Brilliantly, the good man himself was there to hold a Q&A; sadly, I didn't get to attend (being half a world away, and all) but I have just been sent a very fuzzy audio recording of the session by a jam-and-spoony chap who was there, and having finally fought my way through 90 minutes of swerving volume, muffled voices and sharp bursts of tinny pain whenever the audience laugh or applaud, I can offer you some key bullet points… Read more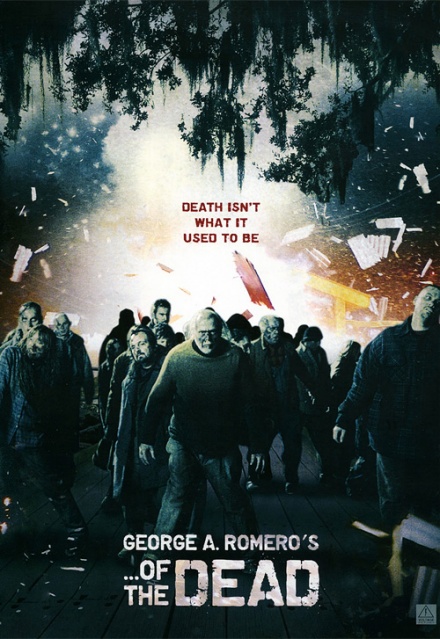 Bloody Disgusting has the first promotional movie trailer for George Romero's next zombie film "…Of The Dead". Looks like a pretty low budget effort, but it has to be better than Diary of the Dead, right? Devonshire Productions also released the official plot synopsis for the film:
"On a small island off North America's coast, the dead rise to menace the living. Yet…the islanders can't bring themselves to exterminate their loved ones, despite the growing danger from those the once held dear. A rebel among them hunts down all the zombies he can find, only to be banished from the island for assassinating his neighbors and friends. On the mainland, bent on revenge, he encounters a small band of survivors in search of an oasis on which to build a new life. Barely surviving an attack from a mass of ravenous flesh-eaters. They commandeer a zombie-infested ferry and sail to the island.
There, to their horror, they discover that the locals have chained the dead inside their homes, pretending to live 'normal' lives…with bloody consequences. What ensues is a desperate struggle for survival and the answer to a question never posed in Romero's Dead films: Can the living ever live in peace with the dead?"
…Of The Dead was a funny in-production title, but I don't understand why they don't just call it "Island of the Dead", which seems a better fit considering the story. Watch the trailer linked below. Read more
Even though there is no definite word about distribution for George A. Romero Presents Deadtime Stories a sequel is, at the time of this writing, in principal photography.
Pennsylvania native Jeff Monahan is back to produce, co-write and co-direct the next anthology horror feature film under his 72nd Street Films production banner. Also returning, director Matt Walsh of 555 Films. George Romero and Christine Forrest reprise their duties as executive producers with the former serving as the film's "storyteller."
Once again, Deadtime Stories 2 will feature three tales of terror by three directors. According to The Valley Independent, a Pittsburgh paper, Monahan was in Monongahela, Pennsylvania this week shooting a scene for one tale involving a werewolf flipping a car over with a young couple inside. No other plot details were revealed other than one chapter takes place in Connellsville where more people have disappeared from than any small town in the world.
Walsh tells the paper George A. Romero Presents Deadtime Stories is due on DVD in April, but he doesn't say who acquired the film which made the rounds last month at the American Film Market. The sequel can be expected in November. Deadtime Stories 3 is said to start rolling next summer! These guys are on a roll.
More info on part two as it comes in. For now… Read more
Timothy Olyphant is about to enter the world of George A. Romero. According to The Hollywood Reporter, Olyphant has secured the lead role for The Crazies remake.
The film, based off Romero's 1973 original film, will center on the tiny populace of a Kansas town that is plagued by madness and death after a plane crashes nearby, releasing a biological weapon into the town's water supply. Olyphant will portray the town's sherrif.
Breck Eisner is directing from a script by Scott Kosar and Ray Wright, with Romero himself executive producing. No production schedule was released for the project.
Source: MovieWeb.com
Movieweb posted some creepy new pics from George A. Romero's Newest Zombie Film…
In honor of Halloween, director George Romero has unleashed two very scary photos in support of his latest untitled zombie flick. Blood-Disgutsing shared their bitingly gruesome image with us, which comes hot off the set of Romero's upcoming Dead film. And USA Today has also published a striking zombie image of their own. Check out the mad zombie love in these two pics below:
The film will revolve around a group of islanders that are forced to content with the living dead. The leaders of this small paradise must decide if they should kill off the zombies, all of which are relatives, or preserve them in hopes of finding a cure. This untitled horror film does not have a set release date at this time. Read more
GamersCircle has a tidbit on the zombie master's newest project:
Last week you were told about George Romero's new zombie movie (working title "Something of the Dead") which is currently shooting in Canada. We only had a few details: The film is set on an island three weeks after the zombie outbreaks, and that underwater zombies will be featured. The official announcement in Variety gives us a better look at the plot of the film: Read more