Remember that super-polished version of Resident Evil 4 we saw strutting its stuff on iPhone? Well, it's available right now for purchase in the App Store — and suspiciously smushed down to 37.3 MB. While the game sits on the pricier side of the app spectrum (and is missing elements from the console versions), anything called "Resident Evil 4" is almost impossible for us to resist.
Almost.
[Via App Advice]
Resident Evil 4 (Capcom, $7.99):

iPhone app developer MobilityWare just let us in on some pretty impressive revenue stats for its game Word Warp. On average, Word Warp brings in just over $10,000 a month.
That isn't revenue from sales of the app, however, but via advertising, at an eCPM rate of $1.91 since September 2008. iPhone owners have the option of buying the game for 99 cents, or downloading a free version that feeds interstitial ads in between matches, sent via iPhone ad network Greystripe. In a phone call yesterday, MobilityWare marketing director Dave Yonamine told me that less than 20 percent of total Word Warp owners opt for the paid version; instead, they overwhelmingly go for the free, ad-driven version, downloading it roughly 1.5 million times.
"We're going to give consumers that choice," Yonamine told me, "and whatever they go with is fine with us." By offering that choice, the company gets another healthy revenue stream besides app purchases, on a game, which by Yonamine's estimation, cost mid-five figures to develop.
The advertising income also helps the company fund updates and enhancements to the game, which in turn helps keeps Word Warp relatively popular. More than a year after being in the Store, Yonamine said, the app still gets thousands of downloads a day. As he put it, "I find it humorous that people say the ad-support model is flawed."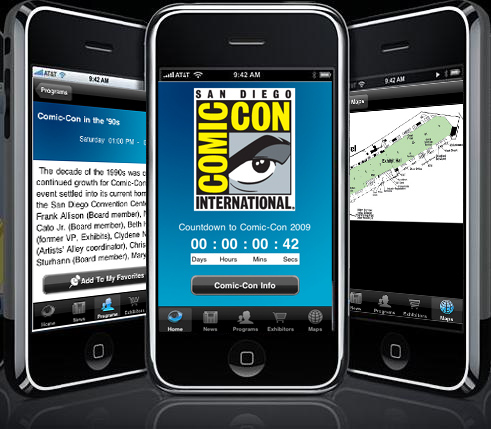 iPhone owners who are headed to San Diego this week should download the official Comic-Con iPhone app. It basically provides all the information you would normally find in the official Comic-Con International program book, including maps of the halls and exhibit floor, program schedules, and a news feed without having to lug around that heavy program. Plus the programing line-up and exhibitor listing is easily searchable, and the maps are multi-touch zoomable (of course).
I'm sure this will come in handy during the five-day convention. Its not perfect. The maps don't switch to landscape mode, and the exhibitor and panel search could be improved if they actually integrated with the maps (showing you where to go). But my hats go off to Comic-Con for putting the extra money into a possibly very useful tool. Best part is it's FREE.
And I'm sure in future years the app will only get better. Social integration would be awesome, allowing you and your friends to create and share customizable schedules. Fantastic Fest and SXSW have some great social features like this on their website.
Sega today announced intentions to bring Streets of Rage to the iPhone. When's it coming out you ask? How's about right now! That's right, folks. Because of Apple's policy on speaking about iPhone apps/games before release, Sega simultaneously announced the game's existence with its release.
Unfortunately, our friends at Touch Arcade were none too impressed with Sega's port, saying the game suffers from tremendous slow down and renders the game "unplayable on the 3GS." Oh no! We're too busy spending our time with Drop7 to play anything else on the iPhone, so how about you tell us, Joystiq Biomass[TM]. Anyone drop the $4.99 for Streets of Rage today and encounter any problems?
In recent months some have chirped that the iPhone is really a sort netbook in disguise, and now with the debut of a new prototype, the iPhone may start doing double duty as an ultra portable server solution.
Created by Japan's FreeBit, the iPhone server farm prototype houses up to five iPhones and is really just a showcase for the company's Serversman software.
The free software supports the iPhone, iPod Touch and Windows Mobile phones allowing you to use your phone for network storage, as a file viewer or as a mini-web server. You can see a video explanation and demo of the entire set-up here.
Via IT Media
We know, we were shocked too! Well, maybe not shocked, considering that Resident Evil 4 popped up on the Japanese App Store before it was pulled right down. The game will return (legitimately this time) to Japan by month's end.
If you're nowhere near the Land of the Rising Sun, fear not! Capcom says the game will roll out to the rest of the world soon after.
The Facebook for iPhone 3.0 will be available for download (probably via the App Store) very soon. The new version of Facebook for iPhone will obviously bring many improvements and additions.
Some of new features include Homescreen, News Feed, Notes, Pages, Events (with the ability to RSVP) and enhanced notifications.
This application also allows you to create photo albums, upload photos, easily tag photos, zoom into photos, and add favorite profiles/pages to the homescreen. Stay tuned for more updates. [UnWiredView]
Any iPhone can play video, but that little 3.5 inch screen just isn't going to cut it if more than a couple of people want to watch your latest magnum opus. By plugging your iPhone into this Mili Pro LED projector, you can create a picture as big as 70 inches across. Although as with most of these tiny projectors, the limited light output means 30-40 inches is probably a better size if you want a reasonably bright picture.
The clamshell design folds open to reveal a built in dock for an iPhone or iPod Touch, or you can use its VGA and AV ports to connect external sources such as a DVD player or computer. There's even a tiny pair of built in speakers to give you some audio. Resolution is 640×480, so don't expect this to magically become some kind of spectacular home theater in your pocket.
The Mili Pro should sell for a little under $300 when it arrives in September.
If there was any question about the significance of the iPhone 3GS's impressive video functionality, here's your answer: YouTube reports that in the six days since the iPhone 3GS was released last week, the number of mobile uploads has increased by a whopping 400%. For a single phone model to have such a major impact on the site is simply phenomenal.
Even without the iPhone, YouTube is seeing major growth across the entire mobile space — the site has seen uploads go up 1700% over the last six months. It's not hard to guess why. Video-enabled smartphones are becoming increasingly popular, as are high speed data connections.
YouTube also attributes part of the growth to a streamlined upload flow (note how easy it is to upload a video from your iPhone to the site), as well as its improved sharing capabilities (you can now syndicate your videos to services like Facebook and Twitter).
Earlier today, reports started flowing in about Piper Jaffray's Gene Munster claiming 750,000 iPhone 3GS devices were sold over the weekend. In a news release, however, Apple claims that that number is off by more than 1/4, saying that sales actually exceeded 1 million units.
In addition, the company says six million customers have downloaded the new iPhone 3.0 software in the first five days since its release. Remarkably, Apple CEO Steve Jobs is quoted at the beginning of the press release – something we haven't seen for quite a while and this after a weekend during which it was uncovered the man had a liver transplant a couple of months ago – saying: "Customers are voting and the iPhone is winning.
With over 50,000 applications available from Apple's revolutionary App Store, iPhone momentum is stronger than ever."