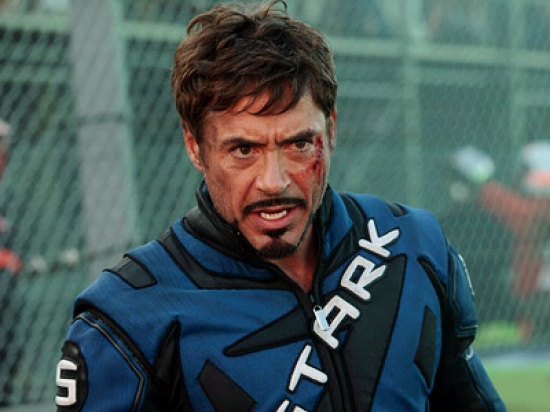 Jon Favreau premiered a sizzle reel for Iron Man 2 during the film's Hall H panel. You can read a description of the footage after the jump.
Tony Stark is eating a donut while laying in the hole of the huge donut on the roof of Randy's Donuts. Samuel L Jackson as Nick Fury yells up "Sir, I'm gonna have to ask you to exit the donut!"
Cut to: Stark and Fury inside the restaurant eating and chatting. Stark asks if Fury was going to ask him to join his group again, to which Nick responds "I remember, you do everything yourself. How is that working out for you?" Stark asks Fury if he is supossed to look at his working eye or the eye patch.
Cut to: A government court hearing, where Tony is talking with Pepper Potts a few rows behind him. Senator Stern Asks Tony if he posseses a weapon, the iron man weapon. Stark says that its not a weapon, and that technically it's a high tech prosthesis.
"Its a weapon Mr Stark!
"If your priority was to protect…"
"Well you can forget it!"
"I am Iron Man, the suit and I am one. You cant have it!"
The Senator calls Rhodey to the stand. Rhodey walks by Stark and tells him he'll deal with it.
The Senator asks Stark what his point is and Stark responds that his point is "You're welcome, I'm your nuclear deterrent," … "I've kept the world safe, what more do you want? I tried to play ball with these ass clowns!" The Senator then says "F— You Mr. Stark!"
There have been a few interesting casting choices for Iron Man 2. Forget about the three-headed hydra of villainy comprised of Sam Rockwell, Mickey Rourke, and Scarlett Johansson, and for the moment, don't even consider the decision to dump Terrence Howard as Rhodey and replace him with Don Cheadle.
While those are all worthy of the many headlines they've received, consider, for a moment, the smaller roles: Garry Shandling as a senator, the hot-as-blazes geek girl Olivia Munn as a player to be named later, and now Stan Lee.
Yes, Stan the Man is a common sight in these Marvel movies; he appeared as Hugh Hefner in the first movie. But now he's throwing on the suspenders and portraying Larry King.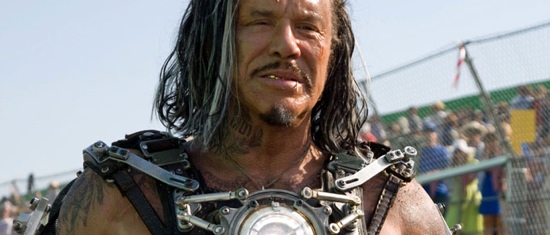 Paramount Pictures has released the first photo of Mickey Rourke as Ivan Vanko aka Whiplash at the Monaco Historic Grand Prix from Iron Man 2. See the full photo after the jump.
The accompanying article in USA Today clears up a few things. The suit, which the Russian criminal put together, consists of a pair of whips, powered by the glowing chest piece. Director Jon Favreau says that the technology used in Rourke's suit is "definitely related" to the tech developed by Tony Stark, and "that's part of the core theme of the film."
It seems to me that this is likely from a sequence early into Vanko's career as a super villain, so I'd assume that this suit is the Mark 1 version that the character constructed out of found parts in jail or what not. I'm sure we'll see a more advanced version of this suit later in the film. But that's just a guess on my part. Head on over to Screenrant to see the photo in high res. Leave your thoughts in the comments below! Read more
I'm not sure if you know that the new Transformers movie worked with the Pentagon on some technological issues, but Steven Spielberg is a pretty powerful guy. Another summer tentpole movie also recently leaned on the government, with Iron Man 2 shooting at Edwards Air Force Base in California.
It's far from the first time Edwards has been used – and in fact, the first Iron Man spent a couple days there – and given that Tony Stark (Robert Downey, Jr.) deals in weapons contracts, it makes sense for the sequel to wind up there, too.
"Edwards has a long association with Hollywood," said Col. William Thornton, 412th Test Wing commander. "We have just about every aircraft in the Air Force's current fleet, 360 days of good weather per year, which is great for filming, and a dessert terrain and landscape perfect for any scene of a deployment."
Iron Man 2 is currently in production in someplace called "southern California," wherever that might be, and yesterday, Jon Favreau and company made use of Randy's Donuts, an instantly recognizable landmark I first spotted in the video to Randy Newman's "I Love L.A." Of course, since I was just a kid, I thought Randy Newman also owned the donut shop. How cool would that have been?
The famous donut shop is the site of a scene apparently inolving Nick Fury (Samuel L. Jackson) and Tony Stark (Robert Downey, Jr.), with Stark lounging on top of the restaurant and making use of giant donut on the roof.
Here's the first shot of Tony Stark (Robert Downey, Jr.) from next summer's Iron Man 2, which is almost exactly one year away.
Jon Favreau made an interesting comment to USA Today, which published the photo above: "I really enjoyed when we were a dark horse and no one knew much about us…I hope we can find that place again." There's no going backwards, of course, Iron Man 2 has huge expectations and the original was fairly anonymous for a long time unless you read comic books.
Sequels are tougher for that reason and they're tougher just because making one good movie is really hard, so two in a row is no guarantee. Favs has a great concept, however, stemming from Tony Stark's public identity as a superhero.
"We wanted to play with that idea. But it obviously has consequences — in his relationships, on the team," he said. "There are a lot of areas we can explore."
As for specifics, you're out of luck. And even the first photo from Iron Man 2 looks like it could be from the first movie. Well played, Favreau. You can, however, follow the director's Twitter updates from the set, which may or may not tell you anything you didn't already know.
In fact, the film is so secretive, new cast member Garry Shandling quipped, "I can't wait to see the movie to see who I actually play."
SpoilerTV has the first photo of Don Cheadle as Col. James 'Rhodey' Rhodes in Iron Man 2. The actor was photographed talking on his phone, in costume on set, during the first day of shooting. Meanwhile, Terrance Howard, who played Rhodey in the first film, has been talking about how Marvel betrayed him during contract negotiations. Quote after the jump.
"[Marvel] made a choice. They made a very, very bad choice. They didn't keep their word. They didn't honor our contract. They sent everyone out into a field and told them to work and produce a great bounty. You produce a great bounty, and then when it's all in the storehouse, you are not allowed into the storehouse," Howard told AceShowbiz. "They did the same thing with Gwyneth [Paltrow], from what I've been told. They did it with almost everyone, I think, except Downey throughout the thing. One of the things that actors need to learn to do is take a tip from Friends [whose cast members all held out for higher pay]. You always choose to stick together. One for all and all for one. Our Gang, you know? Let Spanky be our rule."
There's been some rumblings about "Iron Man 2″ and "Thor" in the news lately.  If things go according to plan, Marvel is going to become a movie powerhouse with all the projects they have coming out.
Marvel has just released a press release stating the new dates.
Iron Man 2 on May 7, 2010 (unchanged)
Thor on June 17, 2011 (changed from July 16, 2010, that makes sense)
Spider-Man 4 on May 6, 2011
Captain America on July 22, 2011 (changed from May 6, 2011)
The Avengers on May 4, 2012 (changed from July 15, 2011)
The plan is to have all the movies (except most likely the Sony produced Spider-Man) interwoven together for the release of The Avengers.  We will get a Marvel superhero movie each summer from 2010 to 2012.
Start saving your money for popcorn…
Nikki Finke got two Iron Man 2 scoops today, reporting that two on again off again rumors have come true. Mickey Rourke and Scarlett Johannson will both be playing  Russians in the sequel to last year's Robert Downey Jr saving flick.
After at first being low-balled by the studio to the tune of $250K, Rourke has signed on for the role of the Russian villain in the sequel after his agent David Unger got the quote up to a "significant" level…

Now I'm told that Emily Blunt won't be in the sequel and Black Widow will now be played by Scarlett Johannson. (Interesting because Scarlett actually screen-tested for the role and didn't get it.)
The exact "Russian villain" wasn't specified, but was earlier rumored as Crimson Dynamo or Whiplash. Finke reports he is starting research on all things Russian during his convenient trip to the country promoting The Wrestler.
So, now that it's as official as it can be without a press release, what do you think? Did Marvel Studios make the right choices here? Can Johannson pull off being the Russian superspy?
INVINCIBLE IRON MAN #11 DKR
MARVEL SPOTLIGHT WOLVERINE
RESIDENT EVIL #1 (OF 6)
WALKING DEAD #59
MARVEL YOUR UNIVERSE #1