FROM HOLLYWOOD CRUSH: If you live in the San Diego area, we suggest you buy some ear plugs, stat. Variety is reporting that "New Moon" stars Robert Pattinson, Kristen Stewart and Taylor Lautner will appear at Comic-Con 2009 this week to promote the "Twilight" sequel. Cue the squealing teens!
Fans have been speculating for months whether the Saga's stars would turn up for the event, with keen interest focused on RPattz who is in the middle of filming "Remember Me" in New York City. According to the report, Robert, Kristen and Taylor will participate in an off-site press conference Thursday morning and will attend a Hall H panel later in the afternoon at the San Diego Convention Center. (View an entire Comic-Con schedule of events here.)
Some things just go together like peanut butter and jelly, right? Well how about Radiohead front-man Thom Yorke and the vampire romance, New Moon? According to an interview with Rotten Tomatoes, Moon's director Chris Weitz spilled details about his plans for the music, and while Weitz will be working again with his Golden Compass composer Alexandre Desplat on the score, rumors have started to pop up about what's in store for the soundtrack.
A few weeks back there was talk that Coldplay and Kelly Clarkson would be contributing to the official soundtrack, but music snobs out there might want to hold on to their hat because Weitz now tells RT the following: "I am surprised at some of the bands that have said they're interested. It's kind of great. The criterion will still always be what's right for the movie at that given moment, but Thom Yorke is interested; we might, if we're very lucky, get Kings of Leon to do something… "
Now you might remember that Yorke provided the track for Radiohead's 15 Step to play over Twilight's closing credits, but I wonder if Yorke does sign on, will he be creating something original, or just hand over the rights to another one of his songs? We will have to wait and see, because neither Leon or Yorke have confirmed their involvement with the soundtrack, and like so much of the news surrounding New Moon, the rumors are running wild.
But Yorke's spokesperson tells MTV that they were, "not denying [the story], but there's nothing confirmed as yet" and Kings of Leon's spokesperson told MTV "They like the film a lot, but it's a little too early to tell if they can be involved."
Thom Yorke in Talks for 'New Moon' Soundtrack?!?
FROM MTV.COM: It's a beloved moment in the "New Moon" novel, a rare moment of comic relief as Bella Swan attempts to get over her Edward Cullen-induced heartbreak by going on what becomes a three-way date with the love-struck Jacob Black and Mike Newton. Recently, actor Michael Welch made big news by assuring Twilighters that the scene would be in November's "Twilight" sequel — and now, we've got the scoop on the key tweak masterminded by director Chris Weitz.
"I really should've checked with someone if this is information I can give away or not," grinned Welch, the fan favorite who plays puppy dog-like Mike Newton in the blockbuster series. "But, whatever — here we are."
Welch stopped by the MTV studios to discuss such far-ranging topics as his concern for Robert Pattinson's safety and the "three-way date," a scene that has Bella, Mike and Jacob at a movie theater, watching a horror film. But, in the grand tradition of such films as "The Player," "Bowfinger" and "The Purple Rose of Cairo," director Weitz is inserting his own mini "movie within a movie" into the mix.
Jackson Rathbone, who plays vampire Jasper Hale in The Twilight Saga: New Moon, told reporters that he and the cast of the upcoming sequel are feeling the weight of the franchise's popularity more. Oh, and he really does get hurled into a piano.
"We have a bigger budget, and we have a little bit more pressure to keep that [indie] feeling going," Rathbone said in a group interview Tuesday on the Pennsylvania set of his upcoming film The Last Airbender. "But the nice thing is that we are delving more into the story now of New Moon.
But I will say that Twilight is my favorite, because it takes you into this realm, from reality into this fantasy reality, and it makes that fantasy more real. As the films progress, you get deeper into the mythical world that we are establishing, with the werewolves and what the actual vampire society and legacy is with the Volturi."
There's this little vampire movie coming out in November called "New Moon." Perhaps you've heard of it? Among the new characters joining the series is Aro, one of three leaders of the Volturi coven, the largest organized group of vampires in Stephenie Meyer's "Twilight" universe. Michael Sheen ("Underworld: Rise of the Lycans," "Frost/Nixon," "Blood Diamond") is the one stepping into Aro's shoes for the silver screen adaptation of "New Moon," and Empire recently had an opportunity to chat with him about it.
From the sound of things, Sheen enjoyed his time on the "New Moon" set. "It was great to work with Chris Weitz; it was a really funny set, really relaxed," the actor told Empire. His part in "New Moon" is admittedly a small one, but Sheen spoke hopefully about working with Weitz again. "That might be the thing that I direct, I don't know yet, you never know."
He goes on to talk about his impressions of both his character and the "young, beautiful" cast that he worked with. It's a brief interview, but enlightening stuff if you're a "Twilight" fan. Which I'm guessing that a few of you are.
Are you familiar with Sheen's other work? Excited about seeing the "Underworld" lycan reinvent himself in a "Twilight" vampire role? What might this directing project be that he speaks of?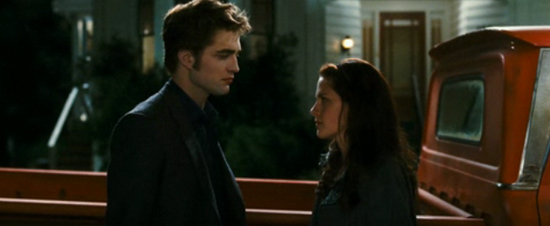 In conjunction with the MTV Movie Awards, which are pushing the series like mad, the full trailer for The Twilight Saga: New Moon has debuted online at MySpace. This is the first good look we've had at the work being done by director Chris Weitz (The Golden Compass, About A Boy) who took over after Twilight director Catherine Hardwicke departed the franchise.
The clip opens with the sort of drama between Edward Cullen (Robert Pattinson) and Bella (Kristen Stewart) that is the lifeblood of this 'saga' before moving on to some classic human/vampire conflict and a look at werewolves as envisioned by this series. Watch the embed and get more details after the jump.
This trailer promises more of what we saw in the first film: highly emotional, arguably over-dramatic supernatural stories made to appeal to the young romantic in everyone. That formula didn't work for me the first time, and this doesn't instill much hope that anything will be different in round two, especially given what this trailer displays with respect to werewolves. There just aren't many good werewolf movies out there, and if this example — Taylor Lautner's character undergoing a CGI change from man to wolf over just a few frames of film — is what we're going to get across the board, then I'll pin my lycanthropic hopes elsewhere.
I did get a laugh out of the trailer's conflict between Jasper Hale and Bella. Why? Because Jackson Rathbone, who plays Hale, has evidently been cast in Lords of Chaos as Varg Vikernes, a legendary Norwegian black metal musician who was just released from jail after serving 16 years for burning churches and murdering another musician [via ScreenDaily]. Casting a Twilight actor as one of the most notorious figures in the musical underground is great. It gives fans of the series something odd to discover, and is the final punishment for a man who's done some truly horrible things.
Those official "New Moon" stills I put up on the blog at the end of the day yesterday have turned out to be little more than a tease. Some intrepid fan worked his or her way onto the set of "New Moon" with a camera in tow. The result? 65+ full-size images. Quite a bit more than the handful of officially released stills.
There's a big crowd of folks in red, Kristen Stewart running through a fountain and a shirtless RPattz. The image gallery is up at ShockTillYouDrop.com. Since I have no idea what I'm seeing here, I'd appreciate some enlightenment from you hardcore "Twilight"-ers in the audience. Check out the gallery and then hit me back here in the comments.
See that little image off to the side there? That's your first taste of the official "New Moon" poster. Exciting stuff, right?
Before you click on, I have a question for you "Twilight" buffs out there. Outside of an obsessed fiancèe, this job has been my first real exposure to the series. I would normally jump right in with the books, but I've heard that the movie may be a better place to start.
I know there are some serious fans reading this, so I welcome your advice. Now, do you want to continue reading my babble or do you just want to get to the freakin' image already? Well? Why are you still reading?!
Exciting news, Twilighters! USA Today just published the first official photo of the Quileute werewolf pack from "New Moon." The four actors featured in the photo are Chaske Spencer (Sam), Alex Meraz (Paul), Kiowa Gordon (Embry) and Bronson Pelletier (Jared) — all have some Native American heritage. Though we got a glimpse of a few of Jacob's friends in the first movie, the characters will have a much bigger role in the sequel, as Bella gets very close to Jacob after Edward's departure.
Twilighters everywhere were really excited about the casting of the Quileutes a few months ago — obviously, the studio went for authenticity with this group of little-known actors who all have some Native American heritage. Tons of fan sites did some digging right away and found some pictures of Chaske, Alex, Kiowa and Bronson. But the boys look a lot different in this new official picture than they did back then. They've clearly been cleaned up a bit — and it's obvious they've been working out to live up to their buff descriptions in the books.
But while every fan was thrilled with the casting since it meant the film would be striving for legitimacy rather than just trying to get big names (i.e. Vanessa Hudgens), this particular fan — who is Native American — is slightly confused. The guys all look hot. But I have to be honest: They just … don't look very Native American anymore. They look vaguely Spanish. What do you guys think?
"The Twilight Saga: New Moon" will be released on November 20. In the meantime, weigh in with your thoughts.
Principal photography has begun on Summit Entertainment's The Twilight Saga: New Moon, it was announced today by Erik Feig, Summit's President of Production. Kristen Stewart, Robert Pattinson and Taylor Lautner reprise their roles as Bella Swan, Edward Cullen and Jacob Black. Academy Award-nominee Chris Weitz (The Golden Compass, About a Boy) is the director. "New Moon" is filming on locations in Vancouver, BC and Tuscany, Italy.
Also rejoining the movie are Ashley Greene as Alice, Peter Facinelli as Carlisle, Elizabeth Reaser as Esme, Kellan Lutz as Emmett, Nikki Reed as Rosalie, Jackson Rathbone as Jasper, Edi Gathegi as Laurent, Rachelle Lafevre as Victoria and Billy Burke as Charlie Swan.
New cast members include the legendary Volturi, a venerable coven of vampires who weigh and impose the laws of the vampire world, as well as two new members of the Quileute Indian Nation. The Volturi include Charlie Bewley as Demetri, Jamie Campbell Bower as Caius, Daniel Cudmore as Felix, Christopher Heyerdahl as Marcus, all Volturi enforcers. Dakota Fanning plays Jane, a high ranking and powerful Volturi member and Cameron Bright is Alec, her brother. Noot Seer plays Volturi member Heidi. Michael Sheen plays Aro, the Volturi leader. Graham Greene appears as Harry Clearwater, Quileute tribal leader and old friend of Bella's father Charlie. Tinsel Korey is Emily, the fiancé of Sam Uley.
In "New Moon," Bella Swan (Kristen Stewart) is devastated by the abrupt departure of her vampire love Edward (Robert Pattinson) but her spirit is rekindled by her growing friendship with the irresistible Jacob Black (Taylor Lautner). Suddenly she finds herself drawn into the world of the werewolves, ancestral enemies of the vampires, and she finds her loyalties tested.