The World of Warcraft movie that's been in the works since 2007 or so finally seemed to get a push forward in 2009 when Sam Raimi signed on to direct. At the time, the beloved director was just coming off of the first two massively successful Spider-Man movies, and it seemed like if anyone could get the wheels turning on this video game adaptation it'd be him. As of 2010, a new writer had been hired and Raimi was gushing to press about how "exciting" the World of Warcraft movie was for him. And then… silence.
As Oz: The Great and Powerful got set up as Raimi's next project, video game fans held out hope that the director would get back to World of Warcraft eventually. But that's not happening anymore, he says, because Activision Blizzard couldn't wait for him and had to find another director. Which is a little odd, because we haven't heard anything about the project — with or without Raimi at the helm — in over two years. Read Raimi's comment after the jump.
During an interview with Crave Online at Comic-Con, Raimi clarified his non-involvement on World of Warcraft. "Actually, they don't have me directing World of Warcraft anymore because when I took the Oz job, they had to move on to another director," he told the site. "They had to start making it."
Raimi officially committed to Oz over a year and a half ago, so his statement suggests he's been off of World of Warcraft for some time now. But over the past couple of years, we haven't heard so much as a whisper about what other filmmakers were up for the job, or even that the project was seeking a new director at all. We're not totally sure where the movie is right now, but that can't be a good sign.
Especially since the source material is only getting less popular as time goes on. The video game franchise was a veritable phenomenon a few years ago, but gamers have since moved on to other, newer titles. As Screen Rant points out, Activision Blizzard itself has admitted that its subscription numbers are on the decline. Not that Hollywood's ever been shy about reviving a long-forgotten property, of course.
Discuss: Since it's apparently back to the drawing board on World of Warcraft, who besides Raimi would you like to see take over at the helm?
Here's a little bit of movement on that remake of The Evil Dead that Panic Attack director Fede Alvarez will oversee. The movie is based on Sam Raimi's fan-favorite original 1981 film, with a script Alvarez co-wrote with Rodo Sayagues before Diablo Cody did a rewrite.
Sony Pictures Worldwide Acquisitions and FilmDistrict have partnered with Sam Raimi's Ghost House Pictures to make a big deal to distribute the movie, with the bottom line being that Sony Pictures will distribute The Evil Dead in many countries, including the US.
Variety has the new, saying that the film is set to shoot in 2012. Longtime Raimi producing partner Robert Tapert said,
For 30 years, Sam, Bruce and I have been looking for the right home where we could return the deadites to the big screen. Amy Pascal and Jeff Blake at Sony and Peter Schlessel at FilmDistrict have always been incredible partners who share our passion for great storytelling as well as our obsession for scaring the pants off the audience. Together, we are looking forward to terrorizing a whole new generation.
The safe money would go on "nope, probably not." An update on a fourth Evil Dead movie and/or info on an Evil Dead remake seems to surface every few months. For years, Sam Raimi has talked about making a fourth film, and in January of this year his long-time producer Robert Tapert said plans to remake the original film were still afoot. Series star Bruce Campbell confirmed that plan in April during an Ask Me Anything session with Reddit.
But now there is a report that a new Evil Dead is brewing in Michigan. Is this the fourth film, the remake, or just misinformation based on the fact that Sam Raimi's crew is gearing up for a trip to Oz?
Dread Central reports that Sam Raimi's editor Bob Murawski is now in Detroit "to begin work on the long talked about fourth entry into the Evil Dead franchise, which will be 'a small indie thing like the first two.'"
So is this accurate? I'm guessing no, because there is another Sam Raimi film that is about to shoot in Michigan: Oz: The Great and Powerful. Is Bob Murawski going to work on a small indie Evil Dead movie at the same time as he works on the massive Disney Oz film? Seems unlikely. And the idea of a fourth Evil Dead, much less a remake, is not particularly appealing, so I might just be letting some practical pessimism take over while we wait for confirmations/denials to come in.
That said, a new series entry might be more appealing as a "small indie thing," which could stay true to the series' spirit. We'll update with more info as soon as possible, but don't get too set on seeing a new Evil Dead just yet.
UPDATE: And maybe I was too pessimistic. Some time after I wrote this last night, Bruce Campbell said via Twitter, in response to a fan saying he wouldn't believe in a new Evil Dead film until he sees it:
Believe in the remake, dawg! The project is real. In the works. Cool as hell. Scary as hell.
The beautiful singer/actress Lucy Lawless ("Xena: Warrior Princess"; "Battlestar Galactica") will be returning to the small screen beginning January 2010 with a new series feature for the STARZ cable network titled "Spartacus: Blood and Sand". The new series comes from Sam Raimi (Spiderman) and Rob Tapert (Drag Me To Hell); both are currently producing the new hit series "Legend of the Seeker". Lawless worked with Tapert during her stint on Xena. Tapert will also be co-producing the remake of "The Evil Dead" along with Raimi.
"Spartacus: Blood and Sand," which will get its early preview at the next big San Diego Comic Con, returns Lawless to familiar territory — the ancient days of gladiators and god-like heroes. The series centers on the title character Spartacus, played by Aussie actor Andy Whitfield. Lawless will play the wife of the owner of the now-enslaved Roman gladiator Spartacus.
The supporting cast for this adventurous undertaking includes some familiar faces from the sci-fi and fantasy genre. Erin Cummings of Joss Whedon's "Dollhouse," Peter Mensah "300? and "Avatar" (Peter was interviewed here at Slice of SciFi), Te Maioha who worked on "Xena: Warrior Princess" and can currently be seen on "Legend of the Seeker," Craig Parker from the "Lord of the Rings" trilogy and also on "Legend of the Seeker," and Manu Bennett who starred in the hit vampire flick "30 Days of Night." The remaining cast include Nick E. Tarabay ("The Sopranos"), Viva Bianca ("Accidents Happen"), Jai Courtney ("Stone Bros.") and Matt Gillanders ("30 Days of Night," "King Kong").
[Pictured: Lucy Lawless & Andy Whitfield]
Legendary Pictures was quick to confirm Harry Knowle's report that Sam Raimi was charged with directing the World of Warcraft movie after he completes work on Spider-Man 4. Just a few hours after the website reported it, the production company and WoW creator, Blizzard Entertainment, issued the following press statement.
Blizzard Entertainment, Inc. and Legendary Pictures announced today that Sam Raimi has signed on to direct the eagerly-anticipated major motion picture based on Blizzard Entertainment's award-winning Warcraft universe. Raimi has, in the course of his career, clearly demonstrated a genius for developing and adapting existing fictional universes for mainstream audiences while staying true to the spirit of the original content.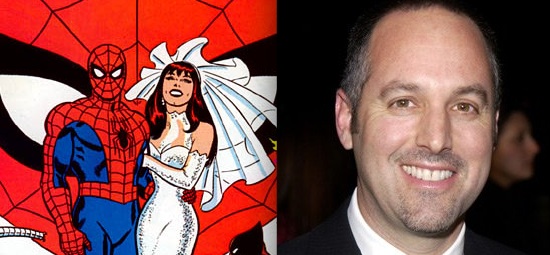 New York Post blogger Reed Tucker has been speaking to producer Todd Black. Their chat was ostensibly about Tony Scott's The Taking of Pelham 1 2 3 rehash though Tucker valiantly swung in with a few Spider-Man 4 questions too. Black gamely discussed the involvement of Kirsten Dunst, the villain they have in mind for the movie (what? only one?), and the rumoured wedding between Peter Parker and MJ. But what did he reveal? It's all coming up, right after this break…
The most solid revelation is that Tucker learned how Kirsten Dunst is "definitely on board". This is hardly a shocker, despite Sam Raimi recently stoking up suspicions and doubts around the actress' involvement. Doesn't sound like she'll be donning a frilly meringue and veil, though – Black denied any knowledge of the rumoured marriage subplot.
Black also swatted off stories of Morbius being locked in place as the picture's villain. Let's just assume we can believe this claim – though, really, official word is never any more reliable the unofficial – and accept that The Living Vampire is well and truly out of the frame. This starts to make Sam Raimi look like the least acceptable source on what is, indeed, his own film. What do you think of Raimi's pot-stirring? Does it just make for jolly japes, is it a good way to garner publicity, or will you get tired of being steered up dead ends, time after time?
What Black did say regarding the proposed antagonist is really just another flame-fanning clue. Here's the quote:
We're just coming up with who the villain's going to be now. We'll be shooting in New York again. Trust me, people will appreciate who we pick, because it'll be a big part of New York.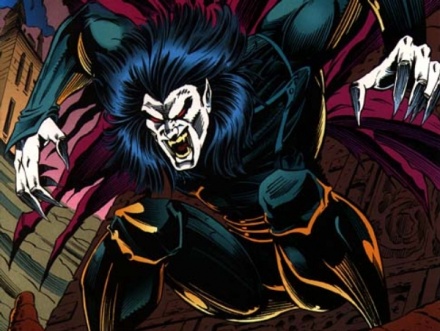 CHUD have been lucky enough to receive a clip of Sam Raimi talking to FearNET about the villain for his fourth Spider-Man film. While Raimi's reaction isn't so plain and simple that we can take it as a 100% guarantee of the character they have in waiting in the wings it does make one player a clear front runner. You might argue that Raimi is playing games with us here, but that doesn't seem to be his style at all.
The FearNET interviewer asks Raimi about the possible role in Spider-Man 4 for a vampire – by which they mean Morbius, I'm sure. Raimi then responds in a deliberately mannered style, ironically turning his "What? I don't know anything about that" into a virtual wink at the camera. You won't fail to get what he's driving at with the tone he uses.
Raimi then goes on to discuss the appeal of vampires and his reading of the archetype is certainly interesting. He's talking about vampires in a very traditional sense, with reference to bat transformations, crucifixes and garlic as well as the sensual nature of a vampire attack. Not the typical nemesis for a costumed superhero.
The early appearances of Morbius in the comics were interwoven with a storyline featuring The Lizard, following a plot which suits the progressing arc of Dr. Curt Connors in the film series. I'm now as near to convinced as I ever could be that we will have Morbius and The Lizard confirmed for key roles in the film before the end of the year. Mary Jane Watson, on the other hand… I guess so, but there's definitely something up there. Is Kirsten Dunst playing hardball in contract negotiations?
When Raimi's Drag Me to Hell opens next week, we'll all have a current reminder of his skill with the horror genre. Folding vampires into Spider-Man might be a slightly off-mainstream play but I think there's every chance Raimi and screenwriter David Lindsay-Abaire willl pull it off with flair, giving us something accessible as well as smart and rich and full of colour and depth. In other words, I'm thinking Spider-Man 4 could end up being the next… well, Spider-Man 2.
As a reminder, Legend Of The Seeker, the Sam Raimi/Rob Tapert production is now available on Hulu. Episodes 1-7 are available to watch now for free (ad supported of course). Note that episodes 1 and 2 are combined into one episode there (Prophecy/Destiny).
In their darkest hour, hunted relentlessly, tormented by treachery and loss, Kahlan calls upon Richard to reach beyond his sword-to invoke within himself something more noble. Neither knows that the rules of battle have just changed…or that their time has run out. This is the beginning. One story. One Rule. Witness the birth of a legend.
Below is an interview with actor Craig Parker of Legend Of The Seeker, who was also in Lord Of The Rings. Read more
Starz is gearing up for some swords-and-sandals action for its next series. According to The Hollywood Reporter, Starz has given the green light for its new series, Spartacus.
Sam Raimi, Rob Tapert and Joshua Donen will develop the series and serve as executive producer while Steven S. DeKnight has been come aboard as head writer and showrunner. The series will be based on the real-life adventures of the slave-turned-revolutionary who changed the face of the Roman Republic in 73 B.C. However, it won't take a page from an existing film.
"This is not going to be at all like the 1960s Kirk Douglas film," said Stephen Shelanski, Starz' executive vp programming. "We didn't want your typical sword-and-sandals. It's going to be fun, fast-moving, full of action and interesting characters and have a little more depth to it than the 1960s film."
It was also said that the story will be reimagined and stylized to match the look and feel of graphic novel films such as 300 and Sin City. It was also said that this will be one of the first TV series to use nearly 100% virtual environments with actors working against virtual sets.
The series will commence production early next year in New Zealand, with a premiere date slated for next summer.
Source: MovieWeb.com Read more
Although things weren't looking too good for awhile, "Spider-Man" has overcome adversities tougher than a Green Goblin-Doc Ock team-up, and now once again has Tobey Maguire and Sam Raimi in his corner. But what about Kirsten Dunst?
"Kirsten, I'd love to work with her again," Raimi explained to us this week, making it sound as if current plans to include Dunst for "Spider-Man 4" and "Spider-Man 5" are still up in the air, despite recent statements that she wants to remain with the franchise. "I hope she'll be written into it. I couldn't imagine making one without her, and I think she's an important part of the movies."
Nevertheless, Raimi admitted that the very nature of an episodic series requires that characters come and go. "I wish I could work with James Franco again," said the man who directed the first three hit movies. "But his character died in the last one; same with Uncle Ben. Fortunately, we've been able to bring back all the dead characters [like Willem Dafoe as Norman Osborn or Cliff Robertson as Ben Parker]. I can't let them go, in each and every picture; but it gets harder and harder."
Now things are about to get hard yet again for Raimi, as he's making plans to continue the cinematic tale of Peter Parker. "I'm really excited about Spider-Man, and I'm hoping to direct it," he cautioned. "I don't have a script yet, but production would start probably by March of 2010, I'm guessing. It sounds like a long time away, but we need a script first, and a lot of pre-production has to take place."
The filmmaking legend also revealed to us that there is a lot of truth behind rumors that he might shoot the next two "Spider-Man" films at the same time. "That had been talked about," he said, deferring to the head of his studio. "It's Amy Pascal's decision. I don't think it has been decided yet, and she's the one that's really going to make that decision; I'm really curious myself."
By his own admission, "Spider-Man 3" was an exhaustive film to shoot, but Raimi is confident he can handle the double duty. "It would be a real endurance test, probably only Peter Jackson knows how hard something like that would be," he marveled, hinting that "4" and "5" would be very closely linked in storyline. "If Tobey and me, and all the producers, like the story for two pictures and Amy wanted to do it, then we would do it. It just hasn't been written yet."
Finally, Raimi offered comment on the wishes of fans (and yours truly) to finally let Dylan Baker's storyline come to fruition. "He's a great actor, and I think one day The Lizard's story will be told," he teased, referring to Baker's Curt Connors character. "I don't know if it will be this one or not. I just don't know. I'm definitely hoping to work with Dylan in the picture. I just don't know who the villain is yet."
Which characters do you feel need to return for the next two "Spider-Man" films? Mary Jane, The Lizard, or neither?
Source: mtv.com