Twilight fans were crushed back in 2008 when Stephenie Meyer announced she had ceased work on the Midnight Sun companion novel after 12 chapters of her unfinished manuscript were leaked online. But based on a recent interview, there's now an entirely different reason why the author is holding off on finishing the book, which is meant to show the events of Twilight from Edward Cullen's point of view rather than Bella Swan's.
It turns out that unlike her fans anxiously awaiting the premiere of the film The Twilight Saga: Eclipse on June 30, Meyer is "burned out on vampires."
In an interview with twilightseriestheories, the author had this to say when asked how she was coming on the writing of Midnight Sun:
"I know that's what everyone cares about. I also know that the right answer would be for me to say 'Oh yah, it's done! And it'll be out next month!' But that's not true. It's also not true that I've got a ton of work done on it, and that's what I'm working on. What's true is that I'm really burned out on vampires. And, I don't want to write it badly. So I want to wait until I'm excited about the material again, and I'm excited about Edward, and that it's something that's motivating. You know, when a story is keeping me up at night, and I'm waking up at 4 am in the morning and thinking 'Yes! That is what should happen in this moment!' Then that is when I can write with happiness! So, right now it feels like homework … it really does. And when things feel like homework they go very, very slowly for me."
Added Meyer: "That should disappoint everyone!"
So—are you disappointed?
Here is an announcement that appeared on Stephenie Meyer's site a few days ago and it concerns a new published work of hers…
Surprise!
I have a new book coming out. It's called The Short Second Life of Bree Tanner: An Eclipse Novella
. Well, it's more of a novella than an actual book—my version of a short story.
Actually, this has been a surprise to me, too. The reason why it's a surprise was that I never intended to publish this story as a stand-alone book. I began this story a long time ago—before Twilight was even released. Back then I was just editing Eclipse, and in the thick of my vampire world. I was thinking a lot about the newborns, imagining their side of the story, and one thing led to another. I started writing from Bree's perspective about those final days, and what it was like to be a newborn. Read more
René Haynes, the casting director for New Moon, this year's follow-up to the smash hit Twilight, has announced an open casting call for the film, which is scheduled to go into production in a couple of months. The film will be released in November.
Casting Scoop has all the details, as well as a few auditioning pointers, but if you're young Native American, you may have a shot:
"Seeking Native American Teens and Young Adults," the posting begins, "Casting Director René Haynes and her staff are very happy to accommodate any Native teens and young adults (who look very youthful) who are interested in sending them an audition."
So there you go. The next steps are to submit a photo and a contact number to info@rhcasting.com by January 30th. I have a feeling if you get cast, you'll be squarely on team Jacob.
Source: GetTheBigPicture.net
Stephenie Meyer, whose novel Twilight launched a vampiric franchise that led to November's hit movie of the same name, was the biggest selling writer in the U.S. last year. She moved 15 million books as of Dec. 28, according to figures released by Nielsen BookScan USA.
Meyer's novels accounted for a remarkable four of 2008′s top 10 titles, and nine of the top 50.
Her most recent novel, Breaking Dawn, was the No. 1 book of the year, selling 3,310,000 copies, followed closely by her debut novel, Twilight, with 3,175,000 copies. It's rare for sales of older titles to return to the bestseller lists, but her 2006 novel was boosted by the release of the film, which proved so successful that a cinematic sequel was immediately put into the works.
Harry Potter creator J. K. Rowling came in at No. 8 with The Tales of Beedle the Bard, followed closely by Christopher Paolini's Brisinger at No. 9.
Source: Scifi Wire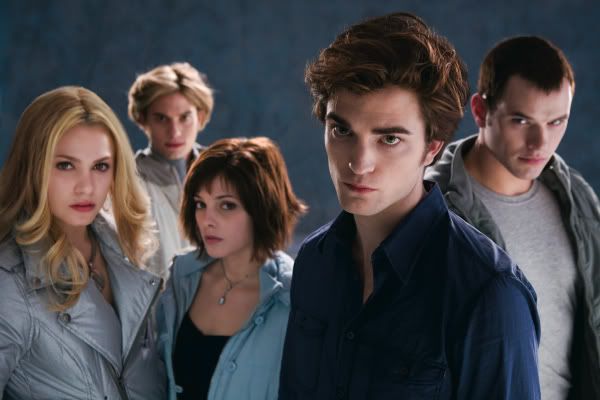 Sarah Jaffe over at Newsarama has some thoughts about the future of the 'Twilight' saga in the cinema…
I'm a formerly-resistant Twilight convert who's now seen the movie twice. I'm about halfway through the third book, and having just finished New Moon, I've got more thoughts on the film adaptation as it moves forward, with a new director and possible other changes.
The Twilight books are written in first person and read like a teenager's gushing diary, with little description of action–or even of characters besides hair color, size, and beauty. This allows readers to project whatever they want to see onto them, but makes it hard to create characters for a performance.
But the books get better as they go along–fewer adverbs and gushing descriptions comparing Edward Cullen to male models, and more action. There are motorcycles, cliff diving, werewolves, more evil vampires, and a daring daylight rescue scene where Bella gets to do the rescuing, for once. So New Moon has the potential to be a better movie than Twilight.
(possible spoilers below. Just sayin') Read more
Stephenie Meyer, author of the hugely popular Twilight series of books, told reporters that she's leaving the door open to writing a fifth volume, Midnight Sun, though she previously said she'd put it on hold indefinitely.
"People are going to forget about it," Meyer said in a news conference in Beverly Hills, Calif., on Nov. 8. "It's going to go away, and that'll be the time when I sneak back in and give it a try again. But it's going to have to be after everything is [over]. It's not writing in a fishbowl, because I can't work that way."
Meyer earlier said she would put off finishing Midnight Sun–a retelling of the first Twilight book from the point of view of vampire Edward Cullen–after an early draft of the book's first chapters was released on the Internet without her authorization. Meyer–whose books have sold more than 17 million copies–later posted the draft on her official Web site.
"Midnight Sun is not on my schedule right now," Meyer said while promoting the upcoming film adaptation of her first book. "It's part of my writing process that, for me to really write a story–and like I was saying before–I can't think about what other people want and what other people are thinking and what the editing is going to be and what the expectations are when I'm writing. Because it's paralyzing to do that. You really can't put a word on the page. I have to be very alone with a story. It has to be just me and what's happening, and I just can't feel that way about it right now."
The Twilight movie opens Nov. 21.
Source: Scifi Wire Read more
Ok, my daughter is driving herself crazy waiting for this movie to be released. She's read all four books (more than a few times already), and has looked up everything that the web has to offer on Stephenie Meyer's creation.
Release date: November 21, 2008
Starring Kristen Stewart and Robert Pattinson, the movie follows Bella Swan's move to Forks, a small, perpetually rainy town in Washington, could have been the most boring move she ever made. But once she meets the mysterious and alluring Edward Cullen, Bella's life takes a thrilling and terrifying turn. Up until now, Edward has managed to keep his vampire identity a secret in the small community he lives in, but now nobody is safe, especially Bella, the person Edward holds most dear. Read more