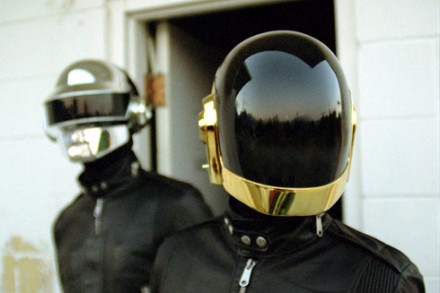 This happens to be my son's favorite music group so I thought I'd pass on /film's announcement that Daft Punk is scoring Tron…
The confirmation comes from Upcoming Film Scores and the Disney folk they checked it out with: Daft Punk have signed on to write the score to Joseph Kosinski's new Tron movie – Tron, Tron 2.0, Tr2n, 2ron or whatever the heck it ends up being called. May I suggest Trons? Jeez. It's gonna get a bad name no matter what.
Officially, this is Daft Punk's first full score. This strikes my skeptical side as a little odd seeing as they starred in, directed, edited, wrote and shot Electroma. The score for that film is credited to one Stephen Baker though I'm more than a little doubtful about his existence. I wouldn't be too surprised if Baker turns out to be a Roderick Jaynes style fabrication. Should you be reading this, Mr. Baker, please do get in touch. I'd hate to be denying credit where it's actually due.

I've used a still from Electroma at the head of the post. The crash-helmeted characters you see are a pair of robots played by Guy-Manuel de Homem-Christo and Thomas Bangalter, the members of Daft Punk. One prolonged sequence of the film sees them with human faces made of latex fitted over these shiny cyberheads. As if that isn't disturbing enough – and it actually is, I had to watch through my fingers – there's a truly disturbing bit where the latex melts. Shudder. Nightmares are made by Electroma – and I guess that's a strong recommendation.
Any band with the music video back catalogue of Daft Punk must have done something right, even if that's just signing to a label with a whip smart video commissioner. Amongst their compendium of mini-gems are Spike Jonze' Da Funk, Michel Gondry's Around the World, Leiji Matsumoto's anime suite for Interstellar 555, Roman Copolla's Revolution 909 and The YouTube Community's collective efforts at writing on themselves and learning complex choreography.
The only way I'd feel Daft Punk were a neater, more seemingly fated appointment for the Tron gig would be if Kraftwerk had scored the original instalment. As it were, the amazing sounds the first time around were provided by Wendy Carlos who simply doesn't have a modern day analog (pun intended).
Daniel Simon, the Tron 2 vehicle designer, gives us a glimpse at a few of his concepts, which are "somewhere between Star Wars and Firefly, with a touch of Talladega Nights thrown in for good measure." Click here for first picture in gallery.
..the guy designing the lightcycles for Tron 2, previously published Cosmic Motors, a compendium of otherworldly vessels you will never drive, but spend your life wishing you could.
Bruce Boxleitner, who played Alan Bradley and the title character in Walt Disney Pictures' 1982 film Tron, is currently filming a role for the studio's upcoming Tron 2.0. He joins fellow original cast member Jeff Bridges and newcomers Olivia Wilde and Beau Garrett in the anticipated action-adventure.
In the original, hacker/arcade owner Kevin Flynn (Bridges) is digitally broken down into a data stream by a villainous software pirate known as the Master Control Program (MCP) and reconstituted into the internal, 3-D graphical world of computers. It is there, in the ultimate blazingly colorful, geometrically intense landscapes of cyberspace, that Flynn joins forces with Tron (Boxleitner) to outmaneuver the MCP that holds them captive in the equivalent of a gigantic, infinitely challenging computer game.
Though plot details are being kept under wraps, it is know that the new movie will act as the "next chapter." Wilde will play a worker in the virtual world who tries to help fight Master Control Program, while Garrett will play a siren in the virtual world.
Source: ComingSoon.net
Jeff Bridges was already a two-time Oscar nominee when he starred in a highly experimental science-fiction flick called Tron back in the early 1980s. The film went on to become a cult classic, and director Steve Lisberger spent the past 25 years or so mulling over a sequel.
Now, we'll finally get that follow-up nearly 30 years after the original film was released. Tron 2 (or TR2N) made a splashy entrance into pop culture consciousness with a surprise teaser this summer at Comic Con, marking the first time I can think of that a film received a trailer three years early.
Bridges recently talked to Will Lawrence of The Guardian about that film and his recent success in Iron Man. Read more
Disney unveiled computer animation for a sequel to its classic 1982 animated SF movie Tron in a surprise announcement to more than 6,500 fans at Comic-Con International in San Diego on July 24.
The sequence opens with a camera twisting through the clouds during a thunderstorm, then down and across a grid. In the center, a figure in a new version of the blue light suit runs and jumps, and a new version of the lightcycle materializes under him. Read more