If the box office results are any indication, movie goers like vampires, secret agents, and historically accurate political procedurals with their Thanksgiving turkey. Raking in a total of $206.7 million, this weekend was the single highest-grossing Thanksgiving holiday in history.
Leading the pack once again was "The Twilight Saga: Breaking Dawn – Part 2," which added $43 million to it total. That figure now sits at a handsome $227 million.
Not far behind, James Bond kept his strong hold on the box office with "Skyfall" taking in an additional $36 million, making it the first film in the series to surpass the $200 million mark. "Lincoln," also performed well, bringing in $25 million for a strong third place finish.
The big disappoint of the weekend was DreamWorks' "Rise of the Guardians." The holiday mash-up only took in $24 million, much lower than expected.
Head over to MTV News for your full box office report.
After having a whole slew of evil ex-boyfriends in Scott Pilgrim vs the World, it looks like the next significant other for Mary Elizabeth Winstead will be the 16th President of the United States. Heat Vision reports the beautiful actress has landed the role of Abraham Lincoln's wife Mary Todd in Timur Bekmambetov's adaptation of Seth Grahame-Smith's historical action horror story Abraham Lincoln: Vampire Hunter. Earlier this week we heard that Robin McLeavy had landed the role, but those reports have turned out to be untrue. They had a 50/50 chance of being right though since both actresses were the top choices for the role.
Winstead joins an interesting cast featuring Benjamin Walker as Abraham Lincoln, Anthony Mackie as his best friend Will, and Dominic Cooper as a mysterious man named Henry Stugress. The story kicks off with the revelation that Lincoln's mother was killed by a supernatural creature, which fueled his passion to crush vampires and their slave-owning helpers. The book depicts the 16th US president as an axe-throwing highly trained vampire killer. It sounds like this project is coming together much easier than the adaptation of Seth Grahame-Smith's other horror infused period piece Pride and Prejudice and Zombies, which may or may not have a third director lined up to get the project off the ground. Thoughts?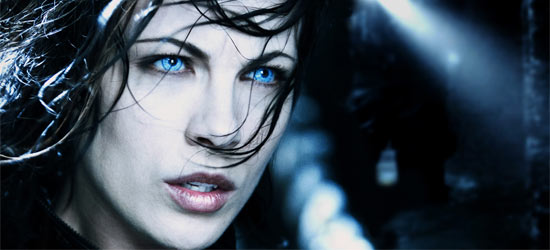 Usually when the central protagonist is absent from the latest entry in a franchise, that's a sign that it's on its last legs, and the studio is making a last-ditch attempt to milk it of all its remaining worth. One might've thought that was the case with Underworld: Rise of the Lycans, but lo and behold, Kate Beckinsale will portray the leather-clad Selene once again for the fourth film in the Underworld series, which has yet to be tagged with a generic, nondescript subtitle. Learn more after the break.
CHUD received confirmation of the casting in a press release, which shares a lot of other info that we already know, but makes no mention of the film being shot in 3D. There are a couple of new tidbits: directors are being sought out for a spring 2011 production start date, and more interestingly, Selene will have a daughter this time around.
On a personal level, I can't say I have any interest in another Underworld movie (I had my fill after the second), but at least Beckinsale's involvement makes for a compelling factoid. How many other series of films are there that have spun off into sequels/prequels sans the original cast members, and then had them return to the franchises as though they never left? To my knowledge, there have only been two: The Fast and the Furious and The Mummy. And assuming a third sequel ever happens, American Pie would make three. So if nothing else, Beckinsale can feel proud that she's contributing to a very rare occurrence in cinema. That's something, right?
The screenplay for the fourth installment of the Underworld franchise was scripted by The Shield-writer John Hlavin, with revisions by J. Michael Straczynski (Changeling). As with Rise of the Lycans, Len Wiseman will serve only as a producer, not a director.
Screen Gems is planning a January 20, 2012 release date for the film.
Twilight fans were crushed back in 2008 when Stephenie Meyer announced she had ceased work on the Midnight Sun companion novel after 12 chapters of her unfinished manuscript were leaked online. But based on a recent interview, there's now an entirely different reason why the author is holding off on finishing the book, which is meant to show the events of Twilight from Edward Cullen's point of view rather than Bella Swan's.
It turns out that unlike her fans anxiously awaiting the premiere of the film The Twilight Saga: Eclipse on June 30, Meyer is "burned out on vampires."
In an interview with twilightseriestheories, the author had this to say when asked how she was coming on the writing of Midnight Sun:
"I know that's what everyone cares about. I also know that the right answer would be for me to say 'Oh yah, it's done! And it'll be out next month!' But that's not true. It's also not true that I've got a ton of work done on it, and that's what I'm working on. What's true is that I'm really burned out on vampires. And, I don't want to write it badly. So I want to wait until I'm excited about the material again, and I'm excited about Edward, and that it's something that's motivating. You know, when a story is keeping me up at night, and I'm waking up at 4 am in the morning and thinking 'Yes! That is what should happen in this moment!' Then that is when I can write with happiness! So, right now it feels like homework … it really does. And when things feel like homework they go very, very slowly for me."
Added Meyer: "That should disappoint everyone!"
So—are you disappointed?
Here is an announcement that appeared on Stephenie Meyer's site a few days ago and it concerns a new published work of hers…
Surprise!
I have a new book coming out. It's called The Short Second Life of Bree Tanner: An Eclipse Novella
. Well, it's more of a novella than an actual book—my version of a short story.
Actually, this has been a surprise to me, too. The reason why it's a surprise was that I never intended to publish this story as a stand-alone book. I began this story a long time ago—before Twilight was even released. Back then I was just editing Eclipse, and in the thick of my vampire world. I was thinking a lot about the newborns, imagining their side of the story, and one thing led to another. I started writing from Bree's perspective about those final days, and what it was like to be a newborn. Read more
FROM HOLLYWOOD CRUSH: If you live in the San Diego area, we suggest you buy some ear plugs, stat. Variety is reporting that "New Moon" stars Robert Pattinson, Kristen Stewart and Taylor Lautner will appear at Comic-Con 2009 this week to promote the "Twilight" sequel. Cue the squealing teens!
Fans have been speculating for months whether the Saga's stars would turn up for the event, with keen interest focused on RPattz who is in the middle of filming "Remember Me" in New York City. According to the report, Robert, Kristen and Taylor will participate in an off-site press conference Thursday morning and will attend a Hall H panel later in the afternoon at the San Diego Convention Center. (View an entire Comic-Con schedule of events here.)
Looks like the Twilight series is looking to launch one more career. Empire writes that Australian actor Xavier Samuel will join the cast of Eclipse, the third movie in the series due out in June 2010, playing Riley, "a newborn vampire…instrumental in an evil plot to kill" our heroine, Bella Swan (Kristen Stewart).
Odds are, you don't know very much about Xavier Samuel, and unless you've seen movies like Newcastle and September, the odds are even slighter. It's a notable casting choice, though, because Samuel is the first new face to join the cast of Eclipse, which will go in front of cameras later this summer.
As you know, Summit really, really, really wants to cash in now on the Twilight movies, so they're rushing – perhaps too much – to get parts two and three in production and in theaters. New Moon opens a year to the weekend that Twilight opened to hordes of screaming fans. Eclipse follows about seven months later.
FROM HOLLYWOOD CRUSH: Though the blood has barely dried on the set of "Twilight" sequel "New Moon," talks are now turning toward the future of the saga once the final installment, "Breaking Dawn," debuts on the big screen. More specifically, producers may be eying a spin-off.
Radar caught up with "Twilight" producers Wyck Godfrey and Greg Mooradian at the 36th Annual Vision Awards, where the duo said there could be more bloodsucking action to come. "Stay tuned. I think if our movies do as well as the first did all possibilities are out there. But right now we need to finish what we have and finish Stephenie's vision as best we can and then let's see where the audience demands us to go from there."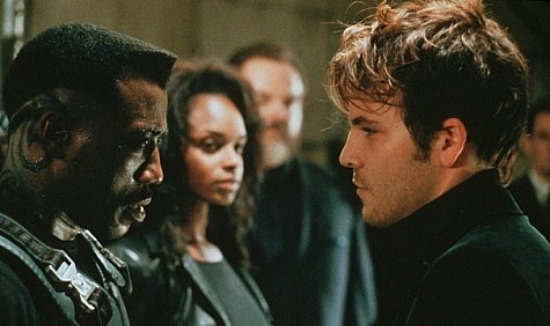 And here I thought the Blade franchise was dead in the water after Blade Trinity's abysmal failure. Stephen Dorff, who played the villain Deacon Frost in the first film, mentioned to the Sunday Mail last year that a prequel trilogy spearheaded by Blade director Stephen Norrington was in the works:
It will be a prequel to the Blade movies, Deacon's story. It's a new trilogy the director has created. It will be cool. We hope to shoot the first film next year. Frost is a character I have never been able to shake.
Without further confirmation from Norrington, we've pretty much treated the news as rumor, but today he admitted to Comics2Film that a prequel film is indeed in the works (as soon as he finishes his Crow reboot). Norrington mentions that the project isn't exactly like Dorff described, but it's close. He goes on to say that it "has evolved into a very interesting story," and that "the linkage to Blade is still big in the equation."
Norrington has had it tough since the first Blade in 1998. He went on to direct The League of Extraordinary Gentleman, an experience that turned him off of the movie making business for several years. His remake of The Crow will be his first project since 2003. Dorff has appeared in various roles since Blade, but nothing has been as successful with mainstream viewers.
While this project is in such early stages that it could probably fall apart at any moment, it's an interesting prospect. Norrington managed to turn what could have been a throwaway comic adaptation into a memorable action film that also helped jump start the comic book film frenzy.  I'm not the only fan that came away soured by Blade Trinity, and this sounds like a good chance to reboot the franchise. I don't suspect we'll see much of Wesley Snipes, though given Blade's connection to Frost I wouldn't be if we see the character in child or teenage form.
Discuss: Do you care at all about more entries in the Blade franchise? Is Deacon Frost interesting enough to have his own prequel trilogy?
FROM MTV.COM: It's a beloved moment in the "New Moon" novel, a rare moment of comic relief as Bella Swan attempts to get over her Edward Cullen-induced heartbreak by going on what becomes a three-way date with the love-struck Jacob Black and Mike Newton. Recently, actor Michael Welch made big news by assuring Twilighters that the scene would be in November's "Twilight" sequel — and now, we've got the scoop on the key tweak masterminded by director Chris Weitz.
"I really should've checked with someone if this is information I can give away or not," grinned Welch, the fan favorite who plays puppy dog-like Mike Newton in the blockbuster series. "But, whatever — here we are."
Welch stopped by the MTV studios to discuss such far-ranging topics as his concern for Robert Pattinson's safety and the "three-way date," a scene that has Bella, Mike and Jacob at a movie theater, watching a horror film. But, in the grand tradition of such films as "The Player," "Bowfinger" and "The Purple Rose of Cairo," director Weitz is inserting his own mini "movie within a movie" into the mix.