What? More vampires? Yep, but these aren't the dreamboat kind that glisten in the Pacific Northwest sun, nor are they tortured but emotionally open Scandinavian bloodsuckers. These are the genuine article.
The movie Daybreakers certainly doesn't look like Twilight or Let the Right One In. In fact, in the world created by the Spierig brothers (Michael and Peter), the vampires aren't the outcasts hiding from the rest of society. It's the other way around. So yeah, that's a new wrinkle.
A new trailer has premiered for Daybreakers, which stars Ethan Hawke as a human researcher working to reverse the plague that has turned most of his race into accident lawyers…I mean vampires. Common mistake… Read more
Jackson Rathbone, who plays vampire Jasper Hale in The Twilight Saga: New Moon, told reporters that he and the cast of the upcoming sequel are feeling the weight of the franchise's popularity more. Oh, and he really does get hurled into a piano.
"We have a bigger budget, and we have a little bit more pressure to keep that [indie] feeling going," Rathbone said in a group interview Tuesday on the Pennsylvania set of his upcoming film The Last Airbender. "But the nice thing is that we are delving more into the story now of New Moon.
But I will say that Twilight is my favorite, because it takes you into this realm, from reality into this fantasy reality, and it makes that fantasy more real. As the films progress, you get deeper into the mythical world that we are establishing, with the werewolves and what the actual vampire society and legacy is with the Volturi."
There's this little vampire movie coming out in November called "New Moon." Perhaps you've heard of it? Among the new characters joining the series is Aro, one of three leaders of the Volturi coven, the largest organized group of vampires in Stephenie Meyer's "Twilight" universe. Michael Sheen ("Underworld: Rise of the Lycans," "Frost/Nixon," "Blood Diamond") is the one stepping into Aro's shoes for the silver screen adaptation of "New Moon," and Empire recently had an opportunity to chat with him about it.
From the sound of things, Sheen enjoyed his time on the "New Moon" set. "It was great to work with Chris Weitz; it was a really funny set, really relaxed," the actor told Empire. His part in "New Moon" is admittedly a small one, but Sheen spoke hopefully about working with Weitz again. "That might be the thing that I direct, I don't know yet, you never know."
He goes on to talk about his impressions of both his character and the "young, beautiful" cast that he worked with. It's a brief interview, but enlightening stuff if you're a "Twilight" fan. Which I'm guessing that a few of you are.
Are you familiar with Sheen's other work? Excited about seeing the "Underworld" lycan reinvent himself in a "Twilight" vampire role? What might this directing project be that he speaks of?
FROM MTV.COM: While we only just debuted the first trailer for "New Moon," the second film in the "Twilight" franchise, it's never too early to turn our attention to the third adaptation of Stephenie Meyer's vampire books, "Eclipse." And turn our attention we must, because casting for the June 2010 movie is currently under way.
E! Online reports that a casting notice has gone out for at least three "Eclipse" characters: vampire Riley and two siblings in the Quileute tribe of werewolves, Seth and Leah Clearwater.
According to the casting notice, Riley "is a handsome, blond, clean-cut college boy who falls victim to [vampire] Victoria." The character is in his early to mid-20s and "plays an integral role in Victoria's attempt to murder Bella Swan."
For the Clearwater siblings, filmmakers are looking for Native American or First Nations (Canadian Indian) actors. Seth is said to idolize fellow werewolf Jacob Black and to be a "tall, gangly limbed boy with a huge, happy grin," the notice explained.
Leah is 19-years-old and the only female member of the wolf pack. "She is tall and slender with beautiful skin and short cropped black hair," the notice said. "She would be considered gorgeous if not for the perpetual scowl she carries due to a broken heart and her anger issues."
Stars Robert Pattinson and Kristen Stewart are already set to reprise their roles in "Eclipse." Shooting on the film is slated to begin in August, with David Slade ("30 Days of Night") taking over directing duties from "New Moon" helmer Chris Weitz.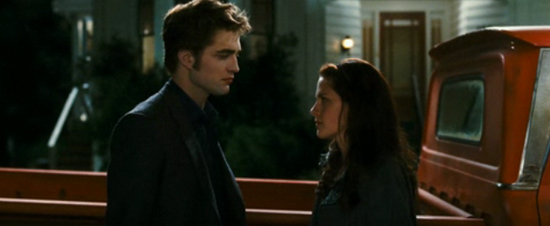 In conjunction with the MTV Movie Awards, which are pushing the series like mad, the full trailer for The Twilight Saga: New Moon has debuted online at MySpace. This is the first good look we've had at the work being done by director Chris Weitz (The Golden Compass, About A Boy) who took over after Twilight director Catherine Hardwicke departed the franchise.
The clip opens with the sort of drama between Edward Cullen (Robert Pattinson) and Bella (Kristen Stewart) that is the lifeblood of this 'saga' before moving on to some classic human/vampire conflict and a look at werewolves as envisioned by this series. Watch the embed and get more details after the jump.
This trailer promises more of what we saw in the first film: highly emotional, arguably over-dramatic supernatural stories made to appeal to the young romantic in everyone. That formula didn't work for me the first time, and this doesn't instill much hope that anything will be different in round two, especially given what this trailer displays with respect to werewolves. There just aren't many good werewolf movies out there, and if this example — Taylor Lautner's character undergoing a CGI change from man to wolf over just a few frames of film — is what we're going to get across the board, then I'll pin my lycanthropic hopes elsewhere.
I did get a laugh out of the trailer's conflict between Jasper Hale and Bella. Why? Because Jackson Rathbone, who plays Hale, has evidently been cast in Lords of Chaos as Varg Vikernes, a legendary Norwegian black metal musician who was just released from jail after serving 16 years for burning churches and murdering another musician [via ScreenDaily]. Casting a Twilight actor as one of the most notorious figures in the musical underground is great. It gives fans of the series something odd to discover, and is the final punishment for a man who's done some truly horrible things.
Those official "New Moon" stills I put up on the blog at the end of the day yesterday have turned out to be little more than a tease. Some intrepid fan worked his or her way onto the set of "New Moon" with a camera in tow. The result? 65+ full-size images. Quite a bit more than the handful of officially released stills.
There's a big crowd of folks in red, Kristen Stewart running through a fountain and a shirtless RPattz. The image gallery is up at ShockTillYouDrop.com. Since I have no idea what I'm seeing here, I'd appreciate some enlightenment from you hardcore "Twilight"-ers in the audience. Check out the gallery and then hit me back here in the comments.
Really folks. What would we do without Michael Ausiello? The dude pulls out some fantastic scoops on his Entertainment Weekly TV blog, The Ausiello Files. Take today. We all learned that another "Buffy the Vampire Slayer" movie is in the works, and that it will draw it's primary inspiration from the original 1992 movie, the one starring Kristy Swanson. Not Joss Whedon's much-loved TV series starring Sarah Michelle Gellar.
It kinda sorta makes no sense, right? There are reasons of course. This latest "Buffy" initiative is being spearheaded by the movie's director, Fran Rubel Kuzui. You should go back and read this morning's update on the subject if you want more details. The key point I want you all to walk away with is that "Buffy" TV fans are in an uproar over Whedon's apparent non-involvement in the coming movie.
Which brings me back to Ausiello, who engaged in a back-and-forth series of e-mails with Whedon today. Well, one e-mail to and one e-mail from. In point of fact, Whedon didn't have a whole lot to say on the matter. His response?
"I hope it's cool."
This is not a dig on Ausiello. He regularly pulls out credible information, and I have no doubt that he'll get more out of Whedon at some point if there's more to be had. I just thought this would be an amusing little throwaway to end your day with.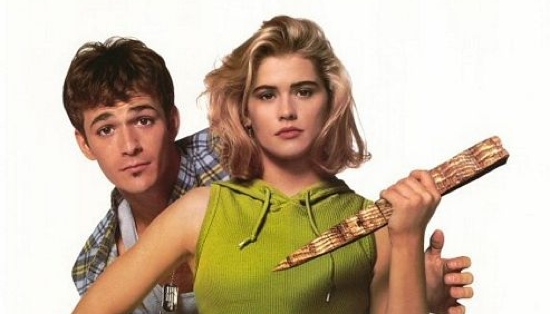 Hollywood is developing a big screen reboot of Buffy the Vampire Slayer without Buffy creator Joss Whedon. Did you hear that? its the simultaneous gasp of Buffy fanboys (and fangirls) worldwide.
Fran Rubel Kuzui, who directed the original 1992 movie which spawned the television series, is developing the relaunch with Vertigo Entertainment. The characters and canon created in the television series will be completely abandoned.
According to Reuters, the goal would be to "make a darker, event-sized movie" with "franchise potential." The story would follow a new vampire slayer who must step up to protect the new generation. Kuzui says the the new movie will hopefully take "Buffy into a new place." The parties won't rule out Whedon's involvement, but are currently meeting with writers and hearing pitches.
I have yet to really give the television series a chance, but everyone I know with geek cred swears by it. I never thought that the concept was anything really special. It seems to me that Whedon's characters and character development elevated the show above other typical genre series. And a big screen movie or television show without his involvement would most likely suck.
Exciting news, Twilighters! USA Today just published the first official photo of the Quileute werewolf pack from "New Moon." The four actors featured in the photo are Chaske Spencer (Sam), Alex Meraz (Paul), Kiowa Gordon (Embry) and Bronson Pelletier (Jared) — all have some Native American heritage. Though we got a glimpse of a few of Jacob's friends in the first movie, the characters will have a much bigger role in the sequel, as Bella gets very close to Jacob after Edward's departure.
Twilighters everywhere were really excited about the casting of the Quileutes a few months ago — obviously, the studio went for authenticity with this group of little-known actors who all have some Native American heritage. Tons of fan sites did some digging right away and found some pictures of Chaske, Alex, Kiowa and Bronson. But the boys look a lot different in this new official picture than they did back then. They've clearly been cleaned up a bit — and it's obvious they've been working out to live up to their buff descriptions in the books.
But while every fan was thrilled with the casting since it meant the film would be striving for legitimacy rather than just trying to get big names (i.e. Vanessa Hudgens), this particular fan — who is Native American — is slightly confused. The guys all look hot. But I have to be honest: They just … don't look very Native American anymore. They look vaguely Spanish. What do you guys think?
"The Twilight Saga: New Moon" will be released on November 20. In the meantime, weigh in with your thoughts.
The Twilight saga is putting together sequels at a breakneck pace; New Moon is in production now and will be released in November and the third film, Eclipse is schedule for a June 2010 release. So what of Breaking Dawn, the fourth and final chapter? The Wrap says there are plans to go into production on that movie next spring, following the schedule being used for New Moon this year.
Summit Entertainment is putting all its eggs in this basket, and if Breaking Dawn does go in front of cameras a year from now and comes out in November 2010, that's four movies in two years.
Not only is that a brutal schedule, but if there's anything to Stephenie Meyer's comments late last year, she wants two Breaking Dawn movies a la Harry Potter and the Deathly Hallows. Would we then get a fifth film in summer 2011?