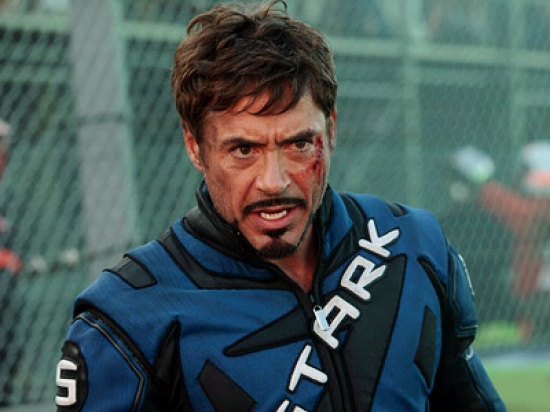 Jon Favreau premiered a sizzle reel for Iron Man 2 during the film's Hall H panel. You can read a description of the footage after the jump.
Tony Stark is eating a donut while laying in the hole of the huge donut on the roof of Randy's Donuts. Samuel L Jackson as Nick Fury yells up "Sir, I'm gonna have to ask you to exit the donut!"
Cut to: Stark and Fury inside the restaurant eating and chatting. Stark asks if Fury was going to ask him to join his group again, to which Nick responds "I remember, you do everything yourself. How is that working out for you?" Stark asks Fury if he is supossed to look at his working eye or the eye patch.
Cut to: A government court hearing, where Tony is talking with Pepper Potts a few rows behind him. Senator Stern Asks Tony if he posseses a weapon, the iron man weapon. Stark says that its not a weapon, and that technically it's a high tech prosthesis.
"Its a weapon Mr Stark!
"If your priority was to protect…"
"Well you can forget it!"
"I am Iron Man, the suit and I am one. You cant have it!"
The Senator calls Rhodey to the stand. Rhodey walks by Stark and tells him he'll deal with it.
The Senator asks Stark what his point is and Stark responds that his point is "You're welcome, I'm your nuclear deterrent," … "I've kept the world safe, what more do you want? I tried to play ball with these ass clowns!" The Senator then says "F— You Mr. Stark!"
War Machine #1, the first issue of a series born from the Dark Reign saga, has a very gritty, urban feel to it from start to finish, which to me, can either be a positive for audiences, or a negative.
The issue opens with War Machine, AKA Jim 'Rhodey' Rhodes, swooping in to ambush a group of mecenaries that have a reprogrammed sentinel in tow, who are about to wipe out a village of rebels in the third world country of Santo Marco. Rhodes' intentions as the armored warrior are clear right away as he tears into the mercenaries without remorse, capturing one Parnell Jacobs, a man from Rhodes' past, at the end of the onslaught.
After a brief flashback, where we see Rhodes torn to pieces, literally, after a battle, resembling Peter Weller's character from Robocop, before his transformation, we cut to an orbiting space platform serving as War Machine's impromptu headquarters where he enlists Jacobs' aid, albeit involuntarily, to make repairs and modifications to his armor.
The artwork by Leonardo Manco serves the story well with its gritty, urban feel. It puts the character in a 'realistic' light as he deals with the bad guys on their own ground. The story moves along at a very rapid pace, sometimes feeling a bit jerky. There were a few spots where I wasn't sure what was happening for a second, then as I pulled back from the page and saw the whole picture, all became clear. I'm curious to see where this title will go, and if it's able to keep its look, which gives it a unique, if not somewhat out of place, feel.
War Machine #1 pulls no punches, and I have a feeling that Jim Rhodes won't be pulling any either. When he pulls the trigger, he deals out justice, or revenge, Rambo style. It's up to the reader to decide which way he's going.
War Machine #1 – Marvel Comics
Writer – Greg Pak
Pencils and Cover – Leonardo Manco
Colorist – Jay David Ramos
Letters – VC's Joe Caramagna
Production – Joe Sabino
Assistant Editor – Michael Horwitz
Editor – Bill Roseman
Editor in Chief – Joe Quesada
Publisher – Dan Buckley
Rated T+
$2.99
Spinning out of Dark Reign, the hero known as War Machine has a new mission to save the world and critics can't stop raving about his new series! Acclaimed scribe Greg Pak (WORLD WAR HULK, X-MEN: MAGNETO TESTAMENT) and rising star artist Leonardo Manco team up for WAR MACHINE, the new series that puts the iron clad hero on a quest to take down some of the world's greatest threats! This one man army takes no prisoners, leaving fans and critics alike with their jaws on the floor!
"A new, cybernetically enhanced War Machine becomes like an international Punisher. He's a one-man war on worldwide crime…Manco's work is a good fit for this series, with its scratchy detail illustrating a world that is anything but bright and shiny. This is a sordid, tarnished Marvel Universe, and Manco 's style suits it perfectly."—Timothy Callahan, ComicBookResources.Com
"Leonardo Manco does a great job capturing a gritty technological feel, and Greg Pak does a great job keeping the pace up. I think this series will be one to watch."– Brendan McQuirk, Newsarama.Com
"Leonardo Manco's beautiful art matches the subject material perfectly, giving Rhodes a rough, gritty world to rocket through and providing some gorgeous splash pages…(for the) shoot-'em-up comic with a sci-fi/tech twist."—Bryan Joel, IGN.Com
"The lines between man and machine, hero and monster, justice and murder can be entertaining and interesting to explore under a talented pen and Pak certainly has that talent…[Manco] provides a gritty realism to the horrors of battle as well as to the horrors of Rhodey's situation."—Tonya Crawford, BrokenFrontier.Com
Marvel urges retailers to check their orders on WAR MACHINE, as the series continues to draw acclaim from all corners.
WAR MACHINE #1 (OCT082347)
WAR MACHINE #1 VILLAIN VARIANT
Written by GREG PAK
Pencils & Cover by LEONARDO MANCO
Villain Variant by MIKE DEODATO
Rated T+ …$2.99
ON SALE NOW!
To find a comic shop near you, call 1-888-comicbook
Source: Marvel.com
Newsarama has an interview with Greg Pak, who discusses the new War Machine series…
In July, we spoke with writer Greg Pak and Editor Bill Rosemann about a little project they have coming up – the new War Machine ongoing series, launching in December.
Illustrated by Leonardo Manco, the new series will feature Jim Rhodes (aka "Rhodey") in his armor, stuck somewhere between man and machine thanks to…well, thanks to stuff that will be coming up. The series will pick up from the new status quo set up by writer Christos Gage in his three-issue War Machine, Director of S.H.I.E.L.D. arc that ties in to Secret Invasion, that is, Rhodey will be operating from an orbiting satellite, ever vigilant to stop violence and evil before it grows.
With the debut of the new series a month away, we spoke with Pak again to see what else we can find out about Rhodey, his suit, his mission and his new status quo.
Newsarama: Greg, we're a little further down the road from when we last spoke about the new ongoing War Machine series and you couldn't say much, but judging from the preview of the first issue that's up at Marvel.com, it looks as if you're going to be continuing with the status quo shift Christos Gage introduced in his three issue Secret Invasion tie-in. Was setting Rhodey up in a satellite your idea from the beginning? Why does that work for him, in your view?
Greg Pak: I first heard about the idea of War Machine headquartered in a stealth satellite from editor Bill "Rockem Sockem" Rosemann during the last Marvel creative summit. Given Rhodey's new mandate, it's a perfect set up — it gives him a high tech headquarters from which he can have a global reach. At the same time, it helps hammer home how isolated Rhodey's new mission has made him from everything he knew before. It represents one part of the sacrifices Rhodey's making and helps us build this theme of heart versus hardware, man or machine.
NRAMA: For those who may not have followed War Machine in Avengers: The Initiative, where is Rhodey these days? More importantly, what is he these days? Read more
A little information and background on Jim Rhodes AKA War Machine…
James Rhodes grew up in South Philadelphia. Bullied as a child, he was determined to get out and make something of himself, eventually becoming a U.S. Marine. Rhodes served several tours in Southeast Asia, studying while in the service to become an aviation engineer. As a soldier, Rhodes was willing to kill if a mission required it, but every life he took would haunt him. During one mission, Rhodes' helicopter was shot down and he crashed into the jungle. He was found by Iron Man, who had only recently escaped from Wong-Chu and needed transportation out of the combat area. Iron Man helped repair Rhodes' helicopter and the two men made it to safety together. Afterwards, Rhodes was approached by Tony Stark, Iron Man's "employer" (in fact, Tony Stark was Iron Man). Stark offered Rhodes a job as his pilot, and Rhodes agreed to take him up on his offer when his service was over.
Rhodes was true to his word, serving for some time at Stark International as Stark's personal pilot and becoming Tony's close friend. Rhodes was forced to watch as Stark gave in to alcoholism, and finally, during a battle with the villain Magma, Stark went into battle as Iron Man while intoxicated. After a humiliating defeat, Iron Man went to Rhodes to help recharge his armor, and inadvertently revealed his double identity to Rhodes. Too inebriated to continue his fight with Magma, Stark passed out, and Rhodes donned the armor in order to save Stark International from Magma's rampage. Rhodes succeeded in his first mission, and Stark asked him to stay on as Iron Man so that he could continue to pursue his life of alcoholism. Read more
With Iron Man occupied in the Savage Land, the Skrulls may think they've eliminated their armored opposition, but War Machine is out to prove them wrong in this must-read Secret Invasion tie-in! IRON MAN: DIRECTOR OF S.H.I.E.L.D. #33, from acclaimed Thunderbolts writer Christos Gage and fan favorite artist Sean Chen (Nova), kicks off "War Machine: Weapon on S.H.I.E.L.D," which redefines War Machine's place in the Marvel Universe as a result of Secret Invasion…and setting the stage of his upcoming ongoing series! A major new chapter in Tony and Rhodey's history begins right here! Read more