Since its launch way back in 2005, the Xbox 360 has been purchased a grand total of 70 million times, according to IGN. This figure is up by nearly three million units since last April, when the global total rung up at 67.2 million.
Conceptualizing that many Xboxes is kind of hard to do, so let's put that figure into a ridiculous, arbitrary context. An olympic-sized swimming pool, for instance, holds about 424,935 Xboxes, assuming a pool volume of 88,528 cubic feet and Non-S model 360s. In order to hold all the Xboxes sold in the world so far, it would require 165 olympic-sized swimming pools, with that 165th pool having a tiny little bit of space left over for some controllers and a copy of Condemned: Criminal Origins.
To put it another way, if every Xbox sold in the world were put on one side of a giant scale, 2,156 blue whales would need to be placed on the other side for it to balance properly, assuming a median weight of 250,000 pounds per whale. That's kind of a lot of Xboxes, you guys.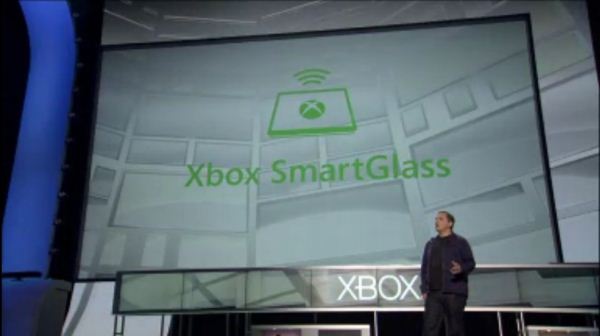 While we'll leave most of the E3 gaming announcements today to the gaming press, there is one bit of news that has come out of E3 that's going to be relevant for Windows users.
As previously rumored, Microsoft used E3 to announce their SmartGlass companion service for Xbox. If you've played around with Windows 8 or Windows Phone 7 then you've already seen pieces of this, as SmartGlass is the functional successor to Microsoft's Xbox Companion application – and in all likelihood built upon Companion too.
Xbox SmartGlass effectively extends what Companion could already do by not just giving client devices the ability to control the Xbox 360 – a function that will be increasingly important as SmartGlass devices will be the controls for Internet Explorer on the Xbox 360 – but also access to some forms of Xbox content. On the content consumption side Microsoft is currently pitching it as a way to watch movies and videos, including the ability to swtich between a SmartGlass device and the Xbox 360 on the fly. And while it isn't made explicit in their demo or press releases it looks like this is limited to content from the Xbox Live service, making it something closer to synchronized media playback devices than something pushing content around like DLNA or Apple's AirPlay.
A limited edition, Star Wars-themed Xbox 360 will feature designs inspired by your favorite droids.
Microsoft and LucasArts unveiled a console bundle for the upcoming Kinect Star Wars game at a San Diego Comic-Con International panel on Thursday morning. The bundle will include an Xbox 360 console with a 320 GB hard drive, the Kinect sensor and the motion-controlled Star Wars game. It will also include the Kinect Adventures game that is currently bundled with the motion-sensing camera controller.
Set for release this holiday season, the bundle will cost $450, equivalent to the price of an Xbox 360 console, a Kinect and a game. Read more
During THQ's investor call today, president and CEO Brian Farrell repositioned Homefront's launch from March 8 to March 15. A THQ rep confirmed the delay to Joystiq, saying, "We moved our Homefront launch date by one week to March 15."
No specific reason was given for the move, but the launches of Pokemon Black & White and Dragon Age 2 on March 8 go a long way in explaining it. The rest of THQ's statement seems to reflect our supposition: "We think we have a great opportunity to dominate retail on this date." Tell that to Yu-Gi-Oh! 5D's World Championship 2011: Over the Nexus.
Ever wonder what Faith from Mirror's Edge dreams about? Tom Farrer, producer of Mirror's Edge, answered this question on the PlayStation.Blog: "She apparently dreams about enormous abstract sculptures floating above an endless sea!"
The upcoming time trial DLC pack for Mirror's Edge was originally scheduled for release tomorrow. However, Big Download reports that these additional races will come in February. The delay should give fans a bit more time to practice their skills — the DLC adds new Trophies that only the most hardcore players will be able to achieve. (At the time of writing, we haven't seen if the 360 version will get new Achievements as well.)
While the premium maps won't be available until next month, PS3 owners will still be able to download a system-exclusive map on the PlayStation Store tomorrow. "Synethesia" will be free to all owners of the PS3 version of Mirror's Edge.
Source: Joystiq
Fallout 3's Operation Anchorage DLC is now available to scav from the Xbox Live Marketplace for 800
($10, 50 caps or 100 pieces of scrap metal). The VR mission takes place in the land of Palin, as a force attempts to liberate Anchorage from the Chinese. Once downloaded, keep an eye out for the "Outcast Distress Signal" to find the new content.
If you're sitting on the fence about the purchase, bear in mind that we'll have a review available later this week. And don't forget, the next couple of months will feature two more DLC packs for the post-apocalyptic adventure. The big change arrives in March with Broken Steel, which will increase the game's level cap and get rid of that pesky (abrupt?) ending.
Source: Joystiq
I know many of you have been eagerly anticipating the release of Resident Evil 5′s playable demo, so consider this a friendly reminder that Xbox 360 owners can now snag the nearly half gigabyte test drive to see if it lives up to the hype.
Many of you are already aware of methods through which American gamers could enjoy the Japanese demo that was released across the Pacific weeks ago, but the steps that process entails are generally too complex for the average person.
Now however, prospective zombie slayers merely need log onto the Xbox Live Marketplace, find Resident Evil 5 in the list of games, and click through to the "Download Demo" section.
Though the demo is currently an Xbox 360 "exclusive," PlayStation 3 gamers will be able to download their version of the RE5 demo next week.
Source: GameLife
As the trend of looking back at 2008 continues, Microsoft has provided lists of the year's 20 most popular Xbox 360, Xbox Live Arcade, and original Xbox games.
As noted by Xbox Live programming director Larry "Major Nelson" Hryb, the original Xbox and 360 lists were calculated by the amount of online Xbox Live users playing each game, while the Xbox Live Arcade list was based off sales of the 360 downloads.
Halo 3
Call of Duty 4
GTA IV
Gears of War 2
Gears of War
CoD: World at War
Guitar Hero III
Battlefield: Bad Company Demo
Star Wars: The Force Unleashed Demo
Rock Band
Fable II
Mirror's Edge Demo
Madden NFL 09
BF: Bad Company
Rainbow Six Vegas 2
UNO
Castle Crashers
COD: World at War Multiplayer Beta
Forza Motorsport 2
Too Human – Demo

Xbox 360 Top Live Titles
To see the rest of the lists, visit ShackNews.com
Those patient Halo fans anxiously waiting to command a full squad of space marines in the upcoming real-time strategy spinoff Halo Wars are going to be waiting just a bit longer.
Despite promising a "February 2009″ release date only one month ago, Microsoft has pushed back the release date for the title here in "the Americas" to March 3.
Then again, the release still claims the game will hit Japan and Europe on February 26 and 27, respectively, so perhaps Microsoft is just using this as a chance to apologize to all those overseas gamers who repeatedly get the short end of the release date stick. Turnabout is fair play, and all that.
Source: GameLife
Microsoft is intent on convincing all Xbox 360 owners to sign up for the Xbox Live Gold service, and the firm's "Friendship is Free" program may do just that.
The program, scheduled to run until the end of December, allows those gamers with free Xbox Live Silver accounts to enjoy online play in a handful of Xbox 360 games including the phenomenal Super Street Fighter II Turbo HD Remix.
Other games on offer include Bomberman Live, free shooter Aegis Wing, city-building strategy title A Kingdom for Keflings, Hardwood Hearts and Spades, Uno and Contra-esque action title Small Arms.
I don't want to strong arm anyone into picking up a Gold membership, but for those without one, at least give Super Street Fighter II Turbo HD Remix a try. You'll be shocked at how smooth and generally lag-free the online fighting is.